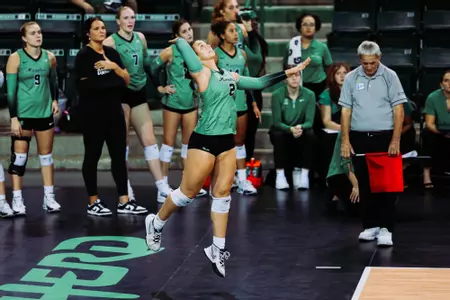 Women's volleyball  delivered for fans on Friday, Sept. 22, a clean sweep victory over Old Dominion at the Cam Henderson Center. The Herd's win was made possible by Bianca Giglio, whose serves gained them the crucial points needed to close out the match. 
In the third set, Marshall found themselves trailing 24-19, making it seem as if ODU was positioned to draw out the match. However, Giglio entered the game as a substitute and turned the tide. She converted five straight set points by delivering a pair of aces and assisting Olivia Fogo and Essence Clerkley with two blocks to level the score at 24-24. 
Despite ODU taking a 25-24 lead and having another set point, Giglio's momentum inspired the Herd to earn three consecutive points. The match was sealed with a final ace by Bella Thompson, resulting in a 27-25 win for the third set. 
The third set closely mirrored the second set, with both teams volleying but failing to take control. Old Dominion gained a 24-21 advantage, threatening to even the match, but Giglio had other plans. She served the Herd to three consecutive points, and a pair of ODU attack errors handed Marshall a 29-27 win for the second set. 
Story continues below advertisement
Full of praise for Giglio, coach Aganus exclaimed, "She won the game for us. There's no doubt." Giglio was not the only standout player though, as Marshall demonstrated a team effort throughout the evening. 
Marshall's strong performance was a stark contrast to their Thursday night loss to Old Dominion. Aganus attributed the improvement to the team's confidence and resilience. 
"We fought so hard last night, but we came out with confidence," Aganus said. "We came out and said, 'You know what? We're down three? That's not stopping us. We're down how many ever in the last set? It's not going to stop us. We're going to keep doing it, limit our errors and start swinging.'"
In addition to Giglio's critical service game, Brynn Brown's consistent performance was a highlight of the evening. Brown recorded 16 kills and an attack percentage of .400, along with 18 assists. Aganus commended her versatility and impressive abilities in scoring, blocking and digging. 
Lydia Montague also contributed 12 kills to secure the victory for Marshall. The team now shifts their focus to the upcoming matches against Georgia State on Thursday in Atlanta.