"The people of West Virginia, for the longest time, didn't believe in themselves," West Virginia Senate President Craig Blair said at the signing of House Bill 117 this Tuesday. "They are now starting to believe and believe in the opportunities that can be in front of them." 
House Bill 117, which allocates $45 million to Marshall for the establishment of a cutting-edge cybersecurity facility. Students, faculty and West Virginia officials gathered to witness the signing in the Arthur Weisberg Family Applied Engineering Complex.  
Bill 117, its resulting cybersecurity facility and the students trained through those new resources provided are "a conduit for one of the components for making a new West Virginia," Blair said. This idea of a "new West Virginia" appeared in several speeches delivered at the signing, including those by West Virginia Speaker of the House Roger Hanshaw and Marshall President Brad Smith. 
The facility will be built on the corner of Fourth Avenue and Hal Greer Boulevard, a space that is currently being cleared for construction. The building will be 78,000 square feet and will include 13 advanced labs to train the upcoming generation of cybersecurity experts, said  Smith. These new labs will increase the number of spaces available for cybersecurity research and specialized training by more than 400%, expanding on the three currently present in the engineering building.
Story continues below advertisement
"I am proud that we are collectively, as a state, creating an opportunity for us to continue leading our country," Hanshaw said. "We have done that. The state of West Virginia has, per capita, sent more people into the armed forces than any other state in America since our history—in our history. We will continue to do that now, but it takes a new kind of training to defend our country. It takes a new kind of professional to defend our country."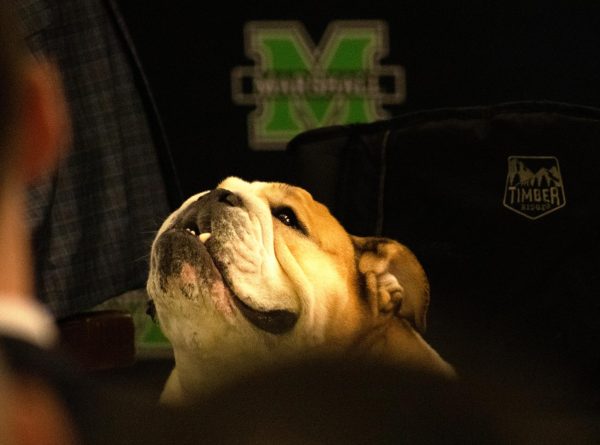 This investment in cybersecurity coincides with an increased focus by the U.S. Department of Defense. Smith and Hanshaw learned this at a recent visit to Seattle, Washington, to meet with a defense contractor. In his speech, Hanshaw highlighted how, during that meeting, the contractor said explicitly that their latest mission is to protect, land, space, air and sea, and also cyberspace. 
Smith, meanwhile, said that not only is cybersecurity the best job to have in the United States right now—with over 714,000 available jobs—but also that U.S. News and World Report wrote that by 2031 job growth in cybersecurity is expected to increase by 35%.
"It is amazing foresight on behalf of the governor, the president, the speaker and our legislative leaders—as well as those that represent us in Congress in the United States, in D.C.—that we leaned into this," Smith said.
Additionally, Hanshaw said that Cybersecurity Magazine reported in 2002 that the average fortune 500 company sustained 39 cyber-attack attempts per second. 
"39 per second," he said. "It takes a lot of Marshall graduates to beat about 39 attacks per second, per fortune 500 company, all across America. I am excited that we get the chance to sign this bill."
In an interview after the signing, Gov. Jim Justice said that, in the past, Mississippi and West Virginia seemed to be in a race to find out which one was going to be "dead last."After many years of being at the end of bad jokes, this project is one of the ways West Virginians are changing that image and becoming the "diamond in the rough that they all missed," he said.
Current cybersecurity students and staff joined Smith, the governor and the other elected officials behind the table as they signed the paper that Smith said will mark a moment that is recorded in the hearts of West Virginians for generations to come.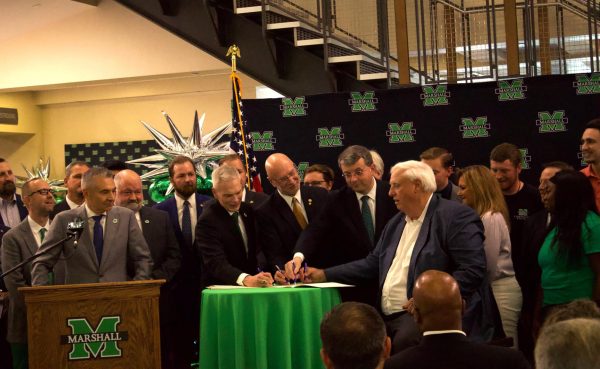 Bella Thompson, a sophomore cyber forensics and security major, said that this is "a huge deal for this major." 
"A lot of high level things come from having high level technology," she went on to say.
Additionally, Josh Mills, a junior in the same program, said that he is glad Marshall will have the support to fund this widely growing field.
Closing out the signing, Justice spoke directly to the students and said that they are the future—that they are really all that matters. He said that, though he will not always be the governor, students should keep on the way they have for many years and "pull the rope together." 
"You know, you'll have tough times," he said. "There'll be a whole lot more tough times, but absolutely you are rising from the ashes as we speak—every single day."