New softball coach readies for Marshall tenure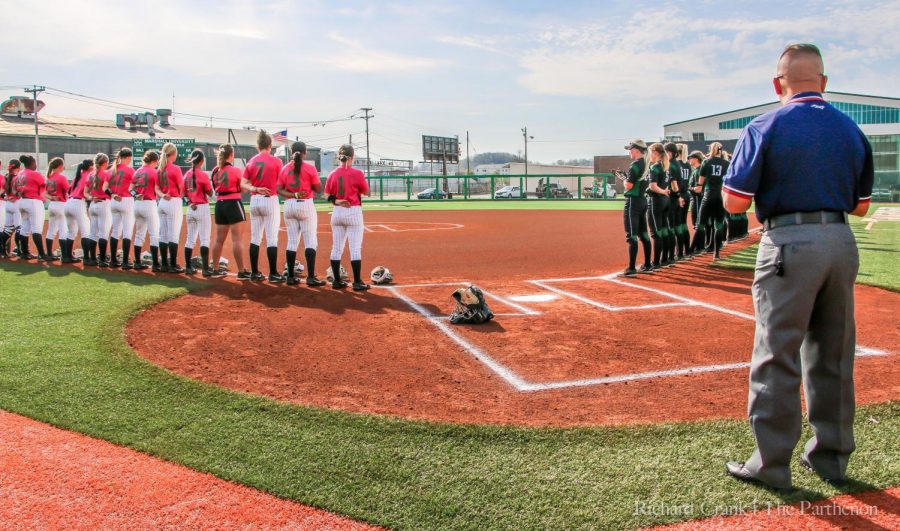 After nine years as head softball coach for the University of Kansas, Megan Smith moved east this summer and took over as Marshall University softball's new head coach.
Smith, a Walkertown, North Carolina, native and University of North Carolina alumna, was officially hired by Marshall in mid-July. She said that aside from Marshall's close proximity to her North Carolina home, Marshall's softball program matched what she was looking for.
"I wanted to come to a place that supports softball and is excited about softball," Smith said. "That is definitely what Marshall is. It's been a great two months now and I've really enjoyed it."
Before she moved to Marshall, Smith achieved a notable level of success at Kansas. During her tenure from 2010 to 2018, she established a career win-loss record of 393-265. In that span, her teams achieved six-straight seasons in which they won 30 or more games. Smith also led the Jayhawks to NCAA Tournament berths in 2014 and 2015.
"(Kansas) was a good place to be and now I'm ready to get Marshall into the (NCAA) regionals, hopefully year-in and year-out," Smith said.
After accepting her first new job in almost a decade, Smith said her move to Huntington was seamless.
"It's been great," Smith said. "It's been an easy transition. Softball is softball. That part of the job is easy."
Smith said the most positive thing about her move—what she is looking forward to the most—is the student-athletes she now coaches.
"(The young women on our team) have been phenomenal," Smith said. "Every single person in that locker room loves Marshall, wants to be here and is coachable."
Marshall has 12 returning players from last season and eight newcomers (five freshmen, three transfers). Smith talked about the mix between old and new players. She said she thinks the mixture creates a balance on her team.
"We have a balance," Smith said. "Even though we have a lot of good, experienced players back, we're going to be pretty young and pretty inexperienced as a group on the field. That's a fun thing—a challenging thing."
Smith said her returning athletes bring experience and leadership while her newcomers bring talent.
"(The returning players) are head-and-shoulders some of the best leaders that I've seen on any team that I've coached," Smith said. "The young players are really talented and look to those upperclassmen as mentors. It's a good mix."
Smith is Marshall's third head coach in three years. Coaching changes are unfamiliar territory for the program after former head coach, Shonda Stanton, maintained the position for 18 years (1999-2017)—a majority of the program's 24-year history. Stanton took a head coaching job at Indiana University following the 2017 season.
During her time at Marshall, Stanton laid the foundation for the Herd and earned national notoriety. Her teams appeared in two Mid-American Conference championships (2003 and 2005), a Conference USA championship (2013) and two NCAA Regional Tournament appearances in 2013 and 2017. Smith said part of the reason she came to Marshall was because of Stanton's success.
"I have a lot of respect for (Stanton)," Smith said. "One of the reasons that I want to be here is the foundation she laid. She got Marshall to a point of national recognition and respect."
Smith acknowledged Stanton's accomplishments at Marshall. She said it is a new era for Herd softball, and she wants to build on the old foundation.
"This is a new time for us," Smith said. "We want to build on that (foundation), we want to honor that and respect that, but we want to go even further than that."
After earning an NCAA Regional Tournament berth in 2017, Marshall was less successful last season. The Herd went 25-29-1 and lost to WKU in the first round of the Conference USA tournament. Smith said with the Herd's athletic talent and revamped coaching staff—assistant coaches Maddie Holub and Corey Lyon—Marshall softball is built for success.
"We have the staff in place to (be successful)," Smith said. "I think we have players that are hungry and willing to work to do that. Last year wasn't as good of a year as Marshall softball is used to. We're working to get back to where we need to be."
Rick Farlow can be contacted at [email protected]