Softball sweeps Florida Atlantic, surpasses 30 wins for third consecutive year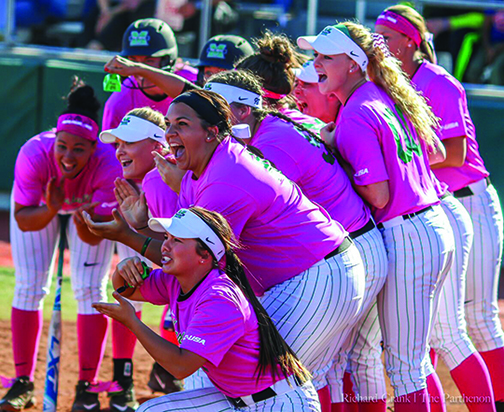 The Marshall University softball team was already turning heads on the national level before this past weekend's series against Florida Atlantic, as the team had been receiving votes in the national top-25 rankings. However, after a convincing three-game sweep of the Owls at Dot Hicks Softball Field, more national attention will likely be given to the Thundering Herd.
Marshall is now 32-5 on the season and 14-1 in Conference USA play after winning all three games against the defending Conference USA champions Florida Atlantic. The Owls move to 25-15 on the season and 7-5 in C-USA play. The Herd sits alone in first place at the top of the C-USA standings, as the only team in the conference with 10-plus wins. 
"It was a great matchup all weekend," head coach Shonda Stanton said. "As a fan, you have to love this weekend. You are seeing two competitive, really good ball clubs out of C-USA going at it. You are seeing the long ball, bunts being dropped and beaten out for singles; it was just a lot of fun."
Senior record-breaking pitcher Jordan Dixon earned two victories and one save in relief in the circle over the weekend. She improved her overall record to 23-4 with a 1.85 earned run average (ERA). It was a special weekend for her as before the game on Saturday she was honored for her 1,000th career strikeout, a milestone she achieved a week prior at Southern Miss. Additionally, her mother Linda threw the ceremonial first pitch for Marshall's Strikeout for Cancer Day  Saturday. 
Sophomore Abigail Estrada had a big weekend at the plate, recording four hits and two runs batted in (RBI). One of her four hits was a solo home run Saturday.
"Beating FAU was huge for our team," Estrada said. "Last year they were the C-USA Champions and, coming into this series, we knew that we had an opportunity to show them what our team has. And we did just that, we came up with the clutch hits and our pitching staff did an amazing job to shut down the FAU offense."
Alongside Estrada's home run, the Herd also gained a home run apiece from seniors Shaelynn Braxton and Morgan Zerkle and junior Taylor McCord. Braxton led the team with three RBI over the three games.
Next up for the Herd is a single-game at the University of Kentucky Tuesday with first pitch set for 6 p.m. The team will resume Conference USA play this weekend Friday at Florida International.
Patrick O'Leary can be contacted at [email protected]