Voting participation is above average on Marshall's campus, according to the moderator of a recent women's rights panel on campus.
"We're the only voter-friendly campus in the state of West Virginia," Dr. Montserrat Miller, executive director of the Drinko Academy and moderator for the panel, said.
The Drinko Academy and Simon Perry Center for Constitutional Democracy—in collaboration with the League of Women Voters of the Huntington Area—showcased their annual Women's Equality Luncheon on Wednesday, Aug. 30.
The luncheon featured three panelists: Dr. Jamie Warner, professor of political science, Dr. Patricia Proctor, professor and founding director of the Simon Perry Center, and Phoebe Patton Randolph, Voter Services Chair of the League of Women Voters.  
Story continues below advertisement
The League of Women Voters provided voter's registration information to all in attendence.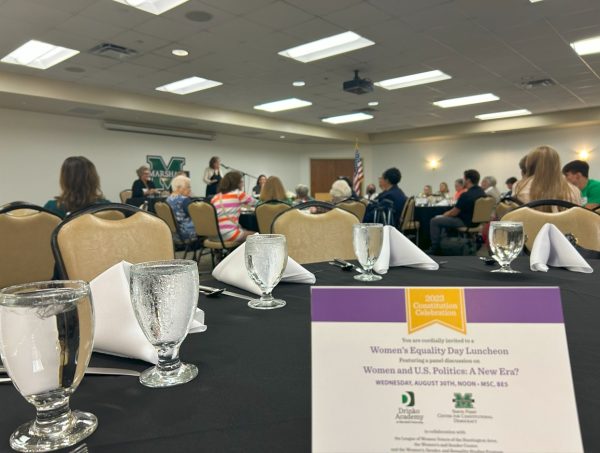 Miller opened up the discussion by speaking on the involvement of women in politics.
"The system of patriarchy has gradually become unraveled, and women have challenged it— along with many male allies—over and over in different places and different points in time and in different ways," she said. "Women have worked to dismantle the system of patriarchy, not since 2016 only, but dating back to the late 1700s."  
Warner began the event by discussing the historical context behind what she considers "the greatest hits" of past patriarchal societies. She mentioned the roles of religion, biology, the brain and psychology, pointing out that we still see portions of these roles today in terms of defining what the "perfect" woman looks like.
Warner also highlighted the past role of biology, which suggested that since women had wombs, they should not be involved in politics or in society as a whole. 
"Their main job was to be the flower pot," she said.
Proctor continued the discussion by explaining the importance of voting participation and the Me Too movement on women's equality. 
"The Me Too movement represents a generation that has said, 'No, I am not going to be treated this way in my workplace and in my life,' and our society is in a place where people listened," she said.
Finally, Randolph spoke on the subjective definition of "women's issues." She argued that these issues "should be of concern to everyone."
"Women's issues are all issues," she said. "It's really about trying to find common ground and things that we can work together on."