Herd men's basketball continues to practice for 2020-21 season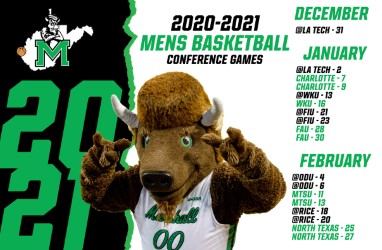 The Marshall University men's basketball team is continuing to practice and prepare for the 2020-21 season as planned.
Marshall men's basketball head coach Dan D'Antoni said the team is ready to play basketball, despite COVID-19 abruptly ending its last season earlier than expected.
"(It's) Just an eagerness to play. They're committed," D'Antoni said. "They've all taken upon themselves to be extremely cautious to do something they love to do."
D'Antoni said with most of the team returning to play this season, the biggest takeaway so far is the experience that is presented throughout the group as a whole.
"The biggest thing is experience. That's the funny thing," D'Antoni said. "We don't have to spend the time teaching them stuff, brushing up on the little things to make it even better. Experience itself just taking it as a whole is a guessing game itself.
Senior forward Darius George said this season will be dedicated to his uncle, who passed away from COVID-19 earlier this year.
"My uncle passed away from COVID when I got home," George said. "It was rough. COVID is real. It was rough for me but now I'm in a better place and I can focus on basketball. This season I'm playing for him. He watched all my games. It will be weird because he won't be here. This season will be dedicated to my uncle and we will see how it goes."
George said the team has gotten used to wearing face masks constantly while practicing and conditioning.
"The masks at first were rough, but now we're used to them," George said. "At first it was hard to breathe in, but we've gotten used to it."
Senior forward Mikel Beyers said he fully believes that the Herd can take the Conference USA title this year.
"I'm really excited to see how everybody comes together when we start to play games." Beyers said. "(We're) Definitely way more comfortable than last year. We were clicking at the end of the season. We need to pick up where we left off. We just need to stay healthy we can run the table. I feel like we can run the table and win C-USA outright. We're going all in this year."
Beyers also said he personally has improved with his decision-making skills and other important skills in order to better his success for his senior year.
"I feel like I've gotten better at decision-making," Beyers said. "I feel like over the summer I was able to develop better decision making, ball handling and other stuff like that.
Freshman guard David Early, a Logan, West Virginia native, said he's confident joining the team as a newcomer.
"It helps a lot, coming in as a freshman knowing the upperclassmen have your back, it helps a lot," Early said. "I like it a lot, I like the game play."
Early said he is an all-around player and can see himself boosting the team with his basketball skills.
"I see myself coming in and making play with others, be ready to shoot and score, an all-around player," Early said. "I can be anywhere on the court, guard anywhere from the 1 through the 5."
D'Antoni is looking forward to the start of the 2020-21 season, as Conference USA released its conference schedule Monday. Marshall's nonconference schedule will be released at a later date.
"This year's team is a little bit better and hopefully we come out with a little faster start," D'Antoni said. "Hopefully that's going to prove out well. Conference is set. It's just a matter of dotting our I's and crossing our T's. We're a better team already."
Taylor Huddleston can be contacted at [email protected]. 
Leave a Comment
Your donation will help continue the work of independent student journalism at Marshall University. If you benefit from The Parthenon's free content, please consider making a donation.