Men's basketball newcomers ready to start 2018-19 season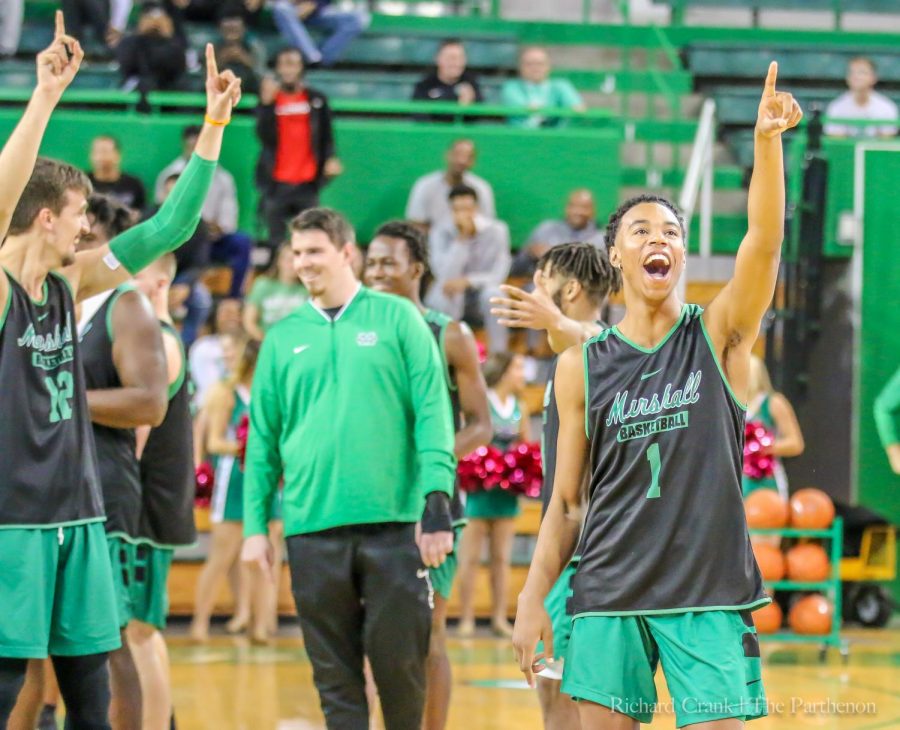 Seven new members of the Marshall men's basketball team will experience their first collegiate season, and the Herd gears up for its 2018-19 regular season.
From high school to Division I basketball, Marshall's roster includes six freshmen and one redshirt freshman. The rest of the roster is made up of nine returning players, including senior guards CJ Burks and Jon Elmore, who were both named to the Conference USA Preseason All-Conference Team last month.
One freshman, in particular, 6-foot-5 guard Taevion Kinsey, has been drawing a lot of attention toward the Herd after his dunks started going viral on social media. Kinsey's highlights were showcased on ESPN in August, after a video of his acrobatic dunking caught the network's attention.
"It is very exciting when your dunk goes viral, especially because I didn't think it was going to," Kinsey said. "I've been doing this for a long time, but getting to college, where there's a lot of cameras and people watching made it easier to go viral."
The 6-foot-5, 177-pound guard from Columbus, Ohio, signed with Marshall last April. While Kinsey was a senior at Eastmoor Academy in Columbus, he was named to the Ohio Prep Sportswriters Association all-state second team and averaged 19.5 points per game, according to Herdzone. In the Herd's final exhibition game last week against West Virginia Wesleyan, Kinsey and Burks led the team with 10 points each.
This will not be the first time Kinsey is playing alongside teammate 6-foot-6 freshman forward Cam Brooks-Harris. The two were teammates on an Amateur Athletic Union (AAU) team while in high school. Brooks-Harris is from Zanesville, Ohio, where he attended Zanesville High School.
During his senior year, Brooks-Harris was the 2018 Player of the Year in the East Central Ohio League, and he was also named a first-team All-Ohioan by the Ohio Prep Sportswriters Association. That same year, he averaged more than 20 points per game (herdzone.com). Brooks-Harris acknowledged the importance of playing at the level of the returning players.
"Everyone here is more experienced, bigger, stronger," Brooks-Harris said. "We are trying to catch up and play at the level that they are playing at."
Freshman guard Jeremy Dillon, a West Virginia native who played football and basketball at Mingo Central High School, had to make a decision when he was offered scholarships for both football and basketball. The 6-foot-5 guard received all-state honors for both sports. At Mingo Central, Dillon scored over 1,300 points and averaged 20 points per game. Dillon signed with the Herd last November.
Dillon was also a Kennedy Award winner and named West Virginia High School Football Player of the Year after leading Mingo Central to an undefeated season and its first state championship in 2016. Dillon acknowledged basketball would be better on his body and said he is excited to see what the team can do this season.
"I just felt like in the long run basketball will be better on my body," Dillon said. "I'm looking forward to seeing what we can do this year, hopefully, this year we will go deeper in the tournament."
Brooks-Harris and Dillon will practice with the team, but will not play in games this season. Marshall head coach Dan D'Antoni announced Monday that Brooks-Harris and Dillon will both redshirt this season.
The Herd has another West Virginia native in freshman guard Deaundra Murphy. Murphy is from Huntington and earned all-state and All-Tri-State honors while playing at St. Joe High School. The 6-foot-3 guard averaged 24.7 points and 6.6 rebounds per game helping his school to the state tournament. Murphy will be ineligible for the first semester after transferring from Alderson-Broaddus midway through last season.
D'Antoni did not stop his tri-state recruitment there. Freshman guard Luke Thomas grew up just five miles from Marshall in Proctorville, Ohio. The 6-foot local attended Fairland High School, where he averaged 15 points per game his senior season and led the school to a 20-4 record and an Ohio High School Athletic Association Division II regional semifinals berth. Thomas accepted Marshall's offer as a preferred walk-on.
"I felt like it was a great fit for me," Thomas said. "I've always loved Marshall, that's where I wanted to play and coach D'Antoni gave me the opportunity."
The Herd also added redshirt freshman 6-foot-9, 350-pound guard Iran Bennett, who sat out last season. Prior to Marshall, Bennett spent two years at Hargrave Military Academy in Chatham, Virginia, where he was a part of the team that went 47-1 and won the 2016 Prep National Championship.
Rounding up the Marshall freshman is 6-foot guard Wilhelm von Arndt. The 175-pound guard is from Stockholm, Sweden and spent last season at Calusa Preparatory School in Miami, Florida. Arndt is a walk-on at Marshall and plans to do whatever it takes to help his team.
"As of now I'm trying to do everything I can whether that's bringing energy to practices, cheering people on, dressing not dressing, playing not playing," von Arndt said. "I'm focused on doing my best and trying to get better."
The Herd begins its regular season play with a 7 p.m. tipoff today at Eastern Kentucky University in Richmond, Kentucky.
Morgan Griffith can be contacted at [email protected]