The sons and daughters of Marshall have the power to change West Virginia, according to the keynote speaker of the second annual Alys Smith Symposium.
"I think the students that go here have a lot of opportunity to make a lot of changes within our state," said Skye Reymond, director of data science for the United States Soccer Federation. "These kids are gonna be the future of our state—not only of Huntington, but of the entire state."
This year's symposium showcased women in STEM. The event featured a keynote address from Reymond and a panel discussion event with various women in science, technology, engineering and math fields that Marshall First Lady Alys Smith facilitated.
The guests on the panel included Laura Riegel, co-owner and co-manager of Blue Ink Technology and RDI Construction; Dr. Sydnee McElroy, assistant professor at the Joan C. Edwards School of Medicine and physician; and Natasha Napier, an engineer for the U.S Army Corps of Engineers.
Story continues below advertisement
Reymond's address highlighted three tips for navigating a STEM career: "apply to the job," "find mentors" and "understand your priorities." Reymond used anecdotes from her personal career to support the ideas. 
She emphasized the importance of mentorship, saying that women who have career mentors are promoted five times as much as women without career mentors.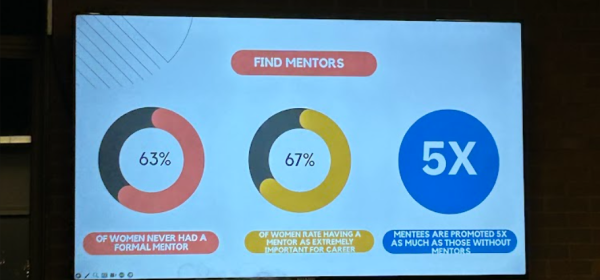 The panel afterwards suggested that women can have a hard time believing that they deserve the positions that they hold in the workplace, a struggle that Smith agreed with.
"I'd say that every single person has imposter syndrome," she said. "Every person just has to take a deep breath and realize that you're smarter than you think you are, and you should just go for it."
"You get one life," she went on to say. "Take the shot." 
The STEM field can take students on a variety of career paths, said Bella Schrader, a senior in the Society of Yeager Scholars program.
"Seeing the different pathways that you can take in those fields, I think, is very helpful," she said. "I definitely love feeling inspired, and it's just great to hear how passionate they [the panelists] all are."
The senior Yeager class helped organize the event in collaboration with the Women's, Gender and Sexuality Studies Program and the Office of the President.