Following the attacks on Israeli soil by Hamas on Oct. 7, college students across the United States have put on demonstrations in support of both Israel and Palestine.
This is one of the most recent instances of student outcry spurred on by the Israeli-Palestinian conflict, which began in 1947 after the breakup of the Ottoman Empire and the United Nations' adoption of Resolution 181 and has continued its spread into Palestinian territory since its formation. Since then, according to the Associated Press, over 1,400 Israeli and 2,778 Palestinians have died as Israel declared war on Hamas. 
Many pro-Israel student protests have condemned the actions of Hamas and demanded retribution for the victims of the terrorist organization. Meanwhile, pro-Palestinian protesters denounce the continued mistreatment of Palestinian civilians by the state of Israel.
Both sides have criticized their universities, though, but for different reasons. Pro-Israel protestors have cited a failure to condemn the attacks by Hamas, while pro-Palestine protesters have criticized failure to condemn civilian deaths in Gaza.
Story continues below advertisement
The conflict has led to a challenge for universities across the U.S.—that being on the protection of free speech—who have tried to remain neutral and maintain student safety as the protests continue.
"This is an incredibly difficult free speech moment on campuses, where both have deeply passionate, entrenched, intractable views," said Alex Morey, director of campus right advocacy group Foundation for Individual Rights and Expression, in an interview with Associated Press. "We want to create an idea climate for debate and discussion."
In the weeks following the initial attacks by Hamas on the 50th anniversary of the Yom Kippur War, various news agencies reported instances of antisemitic and Islamophobic attacks, noting significant increase in the U.S. Among these was an Illinois landlord fatally stabbing a 6-year-old boy and injuring his mother for being Muslims as a response to the war.
In 2022, the Anti-Defamation League's Center on Extremism, which has tracked antisemitic incidents since 1979, recorded its highest number of cases with 3,700 reports last year. Some Jewish students have quoted this statistic as they fear the conflict will lead to more antisemitic violence.
"Jewish students are afraid," said David Hidary, a 20-year-old physics major at Columbia University, in an interview with Reuters.
However, the protests have extended beyond the student body. A professor at Columbia University in New York City is now facing an online petition calling for his "immediate removal"  after he posted an online article praising the attacks by Hamas. The petition, which has amassed over 30,000 signatures, condemns Joseph Massad, a professor of modern Arab politics and intellectual history, and his comments calling the attacks "awesome", "astounding," "incredible" and a "stunning victory."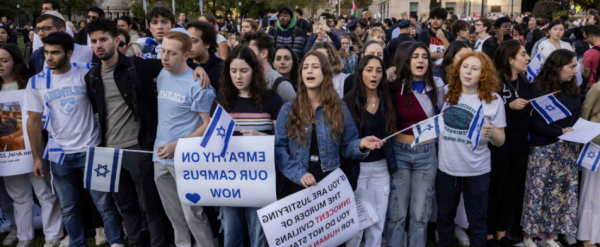 While some universities, such as Stanford, have clarified their commitment to neutrality, other campuses have closed their campuses, like Columbia did last Thursday; meanwhile, the Tucson chapter of the University of Arizona canceled a protest that same day, citing "safety concerns."
On an international level, Israel's call for the evacuation of civilians and continued air raids in the Gaza Strip have raised concerns over humanitarian aid. The area currently has little access to electricity and consequently no method of water sanitation as well as limited resources for hospitals to provide care for the approximate two million people living in the area.