Marshall football hits road for first time in 2016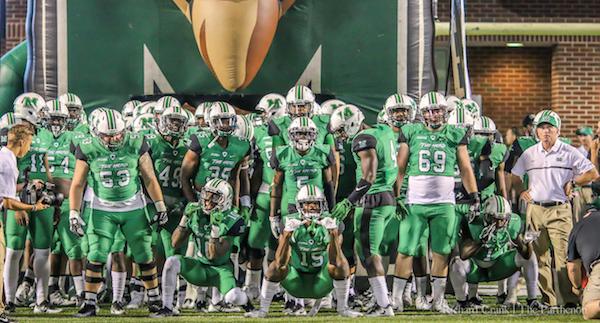 After falling to number-three Louisville last week in a lopsided affair, Marshall nowfaces yet another tough test against their second straight Atlantic Coastal Conference opponent, the Pittsburgh Panthers.
Marshall enters Saturday's showdown in the midst of their first two-game losing streak since the 2013-2014 season, which saw them lose back-to-back games to Ohio University and Virginia Tech. Despite the Herd falling below .500 early in the season, head coach Doc Holliday says his team isn't focused on their record.
"It'll be a great challenge for us," Holliday said. "To go on the road for the first time, it's important … Pitt's an extremely tough football team so we have to make sure we take our toughness and our leadership on the road, that's what you have to do."
Holliday and the coaching staff were put in a bind last week as regular starting quarterback Chase Litton was ruled out prior to the Herd's showdown with the Cardinals. In his place, true freshman Garet Morrell made the start, forcing Holliday to considerably shrink the play book. But Marshall received positive news on the quarterback front, as it was announced Litton had been cleared Tuesday to practice, and subsequently play versus the Panthers.
Holliday stressed the signal-caller will be ready to go, anxious after missing one of Marshall's biggest contests in years.
"There's no question, anytime you're a competitor, you want to go play," Holliday said. "Him not having the opportunity, it hurts, but that's the way it is and he's got to get prepared for this week."
Quarterback play was not the only area of concern heading into this week. The Herd has struggled to get their running game going early this season, prompting Holliday to start redshirt-junior running back Tony Pittman for the first time this season. Holliday also said that sophomore running back Anthony Anderson will see increased snaps, as well. As it stands right now, Marshall averages 159.7 rushing yards per game, good enough for the 84th best per-game total in all of college football.
On the flip side, the Panthers boast a prolific running game as the 15th-best rushing team in the Football Bowl Subdivision (FBS). Led by James Connor, Pitt's running game could cause a number of problems for Marshall's defense, who enters the game ranking in the bottom of Conference USA in terms of total defense.
"If you look at that team, they're coached tremendous," Holliday said. "They're extremely physical … you look at all three phases, they're a mirror image of [head coach Pat Narduzzi]. Defensively, offensively, they get after the ball."
One of the biggest stories heading into the game is Panthers' running back, James Conner. Conner missed most of last season after tearing ligaments in his knee. In the winter, Conner was diagnosed with Hodgkin lymphoma. After undergoing treatment all offseason, Conner was declared cancer-free in May, making headlines and inspiring countless fans.
"Anytime, number one, you have a kid that beats cancer the way he did, I mean, you guys have seen the same thing I have, the attitude he took toward tackling that fight he had to fight is just unbelievable," Holliday said.
The Herd enters Saturday's contest as a 15.5-point underdog. The game kicks-off at 7:30 p.m. Eastern Time at Heinz Field, home of the National Football League's Pittsburgh Steelers.
Jacob Griffith can be contacted at [email protected] 
Leave a Comment