Morrell makes most of first career start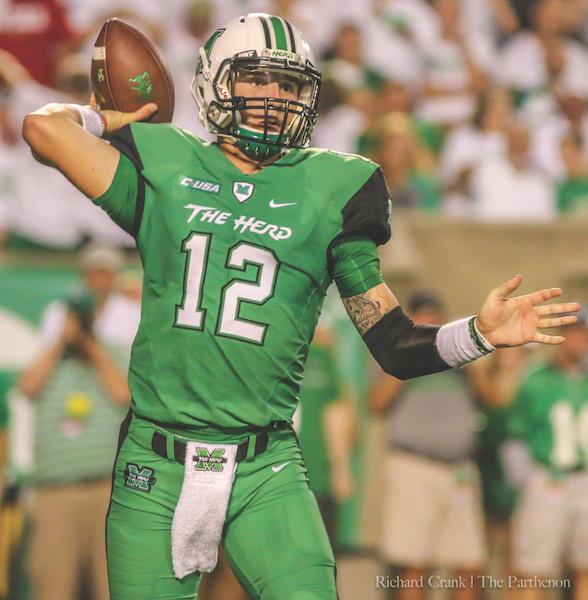 With the Louisville Cardinals on the schedule, this was shaping up to one of the biggest seasons in Marshall football history.
But when game week arrived, the Thundering Herd were dealt a harsh blow – starting quarterback Chase Litton would miss the game. What's more is that freshman quarterback Garet Morrell was forced to make his first career start against the number three team in the nation.
The same Louisville Cardinals who beat the brakes off the then-number two Florida State Seminoles, 63-20.
On national television, against one of the highest-ranked teams Marshall has ever welcomed into Huntington, on one of the largest stages Marshall has played on in years, a true freshman would have to lead the Herd to the biggest upset of the young college football season.
While most would show obvious signs of breaking under that type of pressure, the stone-faced Morrell was not letting it get to him.
"I think he did a heck of a job," sixth-year offensive lineman Clint Van Horn said. "Whatever was in his head, he did a good job of not showing it."
Van Horn knows what it takes for a quarterback to be successful. Van Horn has blocked for Thundering Herd great Rakeem Cato, now a starter in the Canadian Football League.
"We had complete confidence in him," Van Horn said. "He made all his reads and did everything he needed to to give coaches confidence in him."
Following the game, head coach Doc Holliday agreed with Van Horn's take, showing faith in the freshman is growing.
"To [Garet's] credit, I thought he went in there and battled," said head coach Doc Holliday. "That's a tough situation to put him in, but I thought he went in there and battled his tail off and made a few plays."
This isn't the first time Holliday has shown confidence in Morrell. Earlier this preseason, the sixth-year head coach raved about the freshman's progress with the playbook.
"From the time he stepped on campus to now, he's really made a lot of progress," Holliday said in late August.
That progress was enough to help Morrell leap-frog fellow freshman Xavier Gaines on the depth chart, moving him into second behind the incumbent Litton.
Morrell has not stopped working either, and his teammates are starting to take notice.
"He stepped up in his preparation," Van Horn said. "If you look at him, he's night and day, from the first game to now, against Louisville and they're a much better team."
"I think he made great strides this week," said tight end Ryan Yurachek.
Yurachek caught one of two Morrell's touchdown passes, a ball the freshman rainbowed over the outstretched hands of two defenders as Yurachek bolted down the seam. It was a gutsy pass for a true freshman to attempt, but, moreover, it showed a level poise and confidence Morrell posses, something he credits his teammates for instilling in him.
"I knew they guys had my back," Morrell said. "They kept picking me up in situations where I should have been down. They just kept telling me to go after it."
And go after it he did. Morrell did not give up, even as the Herd found themselves down 52-7 early in the fourth quarter of Saturday's game.
The freshman led the charge down field, capping off an 8 play, 65 yard drive with a 12-yard touchdown pass to running back Keion Davis.
All in all, Morrell finished the contest nine of 21 for 59 yards passing and two touchdowns, but, the stats do not tell the whole story.
"If this was my first game, I'm not sure that I could have done as well as he did tonight," said offensive lineman Michael Selby. "He did a great job. He came in this week and worked his tail off, so he was ready when the game started."
The longer the game lasted, the more Morrell settled into the game plan, as Van Horn and Selby both noted. Despite being pressured by Louisville's 25th-ranked defense, Morrell stood tall for the majority of the night, surrendering one interception. It was a outing even the opposing coach, Bobby Petrino, took notice of.
"I think he did a really nice job," said Petrino. "He took care of the ball and was very patient. Our defense is pretty good and got good pressure on him, but I was impressed with how he played for them."
Heading into a new game week and finding themselves 1-2 overall on the year, Marshall also finds itself with more QB uncertainty, a showdown with Pitt just days away. Litton is still questionable for the Herd's second-straight game against an ACC opponent, meaning Morrell could be asked to step up yet again. But, his teammates are resting easier after his outing against the Cardinals, knowing they are in good hands.
"He's going to be a great player," Selby said. "He's talented…what he did took guts."
While it is currently unsure who will start, if Morrell is called on once more, he'll have the support of even the regular starter, Chase Litton, who will be there mentoring him along the way, similar to Cato mentoring Birdsong and Birdsong mentoring Litton.
"Chase has been a leader for this team," Morrell said. "He was always giving me words of encouragement during practice. Even though he was not here tonight, I know that he was watching us and rooting us on."
No matter who starts, Marshall will be locked in as they head to Heinz Field to take on University of Pittsburgh, a game that kicks-off at 7:30 p.m.
Jacob Griffith can be contacted at [email protected]
Leave a Comment