Marshall football elevates Price to co-DC, adds to 2019 coaching staff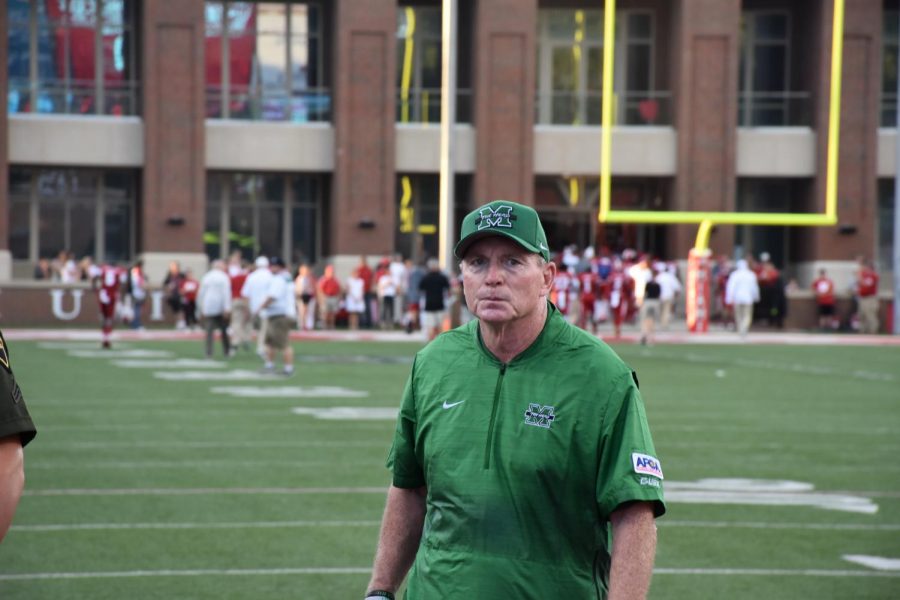 Advertisement
Marshall football's signing day festivities don't begin until Wednesday, but that does not mean the Thundering Herd has been stagnant in making moves. Thundering Herd head football coach Doc Holliday announced multiple additions to his coaching staff and changed the roles of two current coaches Monday afternoon.
Defensive line coach J.C. Price, the longest-tenured member of Holliday's staff, added the title of co-defensive coordinator, though the person he will share the role with has not fully been revealed. 
"J.C. has been a big part of our success defensively for a number of years and we're happy that he's back," Holliday said in a statement. 
Former Charlotte head coach Brad Lambert, who was added to the staff as a volunteer defensive assistant, is expected to share the role of defensive coordinator with Price once the Thundering Herd and 49ers finalize the details of Lambert's buyout and how much the Herd would have to pay him to coach. Lambert was previously an assistant coach at Marshall from 1990-95.
Marshall's previous defensive coordinator, Adam Fuller, took the defensive coordinator position at Memphis.
In addition, one of Lambert's former staff members will join him in Huntington. Chip West, who had the title of co-defensive coordinator with the 49ers, will coach the cornerbacks at Marshall. Mike Treier, who was the cornerbacks coach, will shift to safeties coach. Lambert will also reportedly assume the role of linebackers coach along with his reported defensive coordinator responsibilities. Marshall's previous linebackers coach, Byron Thweatt, left to reunite with Mike Houston at East Carolina. Thweatt previously coached under Houston at James Madison.
"Chip (West) and Brad Lambert were instrumental in the success that Charlotte had, defensively, and we saw that firsthand," Holliday said.
Brad Bielaniec also returns to the Thundering Herd's staff as the head strength and conditioning coach after spending the past season as an assistant strength and conditioning coach at Appalachian State. Bielaniec replaces Luke Day, who left for a job at Colorado.
"We're also happy to have Brad Bielaniec back leading the strength and conditioning program at Marshall." Holliday said. "His attention to detail and ability to motivate student-athletes to reach their potential, physically, is vital to our goal of becoming a better football team."
Marshall still has one void to fill on its coaching staff. The Herd still needs a tight ends coach after Todd Goebbel left to take the same position at NC State.
The Thundering Herd opens its 2019 season at home against the VMI Keydets on Aug. 31. Kickoff time from Joan C. Edwards Stadium is still to be determined.
Kieran Intemann can be contacted at [email protected]