Holliday addresses media before first spring practice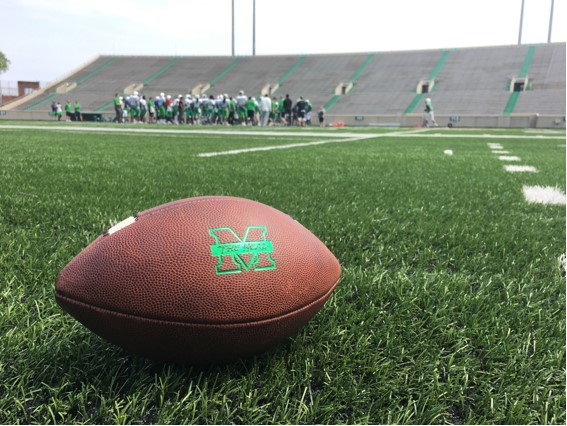 Marshall University football is readying for the upcoming season, as the spring practice season is scheduled to begin this week. Marshall is coming off an 8-win season, including a New Mexico Bowl victory, after finishing the previous year with three wins. The program returns many players from last year, but head coach Doc Holliday said last season is in the past, and the team cannot afford to focus on it.
"One thing we want to do as a coaching staff is not get complacent with any of these kids and make sure that we get better," Holliday said. "You don't stay the same; you get better or you get worse. It's important for this team, with all the experience coming back, to start over."
Marshall football prepares for spring: what Holliday said is the most important part of a program's success or failure, and that the result of next season depends on translating performance from the weight room to the field.
"Any time you're a football coach and headed into spring ball, the most important part of your program is what happens in the off-season—the development that happens in the players from the time you finish the bowl game to the time spring ball starts," Holliday said. "I told the team when they got back last night that it is so critical, all those numbers you have in the weight room right now, it's important to transition that to the football field and become good football players."
While the roster remains mostly intact, the new season begins with a slew of coaching changes. Tim Cramsey has been an offensive coordinator for each of the past nine seasons for five different programs and brings offensive knowledge to the table. He replaces former Marshall offensive coordinator Bill Legg. Another notable change is line-backers coach Adam Fuller's promotion to defensive coordinator, replacing former defensive coordinator Chuck Heater. Holliday said special teams will be a combined effort.
"I'm excited about the two new coordinators—Tim Cramsey and, of course Adam Fuller has been with us a long time," Holliday said. "Todd Goebell will take a bigger role as a special teams coordinator as well as being co-offensive coordinator. He'll coordinate the special teams along with myself and some other coaches."
The spring season will consist of 15 practices. The first 14 are open to season-ticket holders and Big Green Scholarship Foundation members, and the final practice, the annual spring scrimmage, is open to the public.
Luke Creasy can be contacted at [email protected].
Leave a Comment
Your donation will help continue the work of independent student journalism at Marshall University. If you benefit from The Parthenon's free content, please consider making a donation.