From champions to underdogs: confident Herd readies for the Big Dance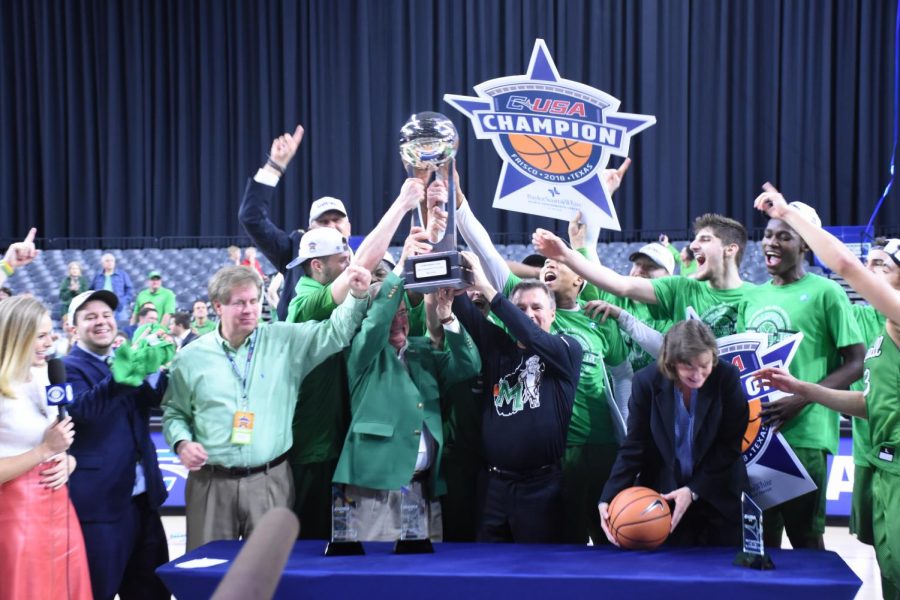 As Marshall men's basketball approaches Friday's first round NCAA Tournament matchup against the Wichita State Shockers (25-7 overall, 14-4 American Athletic Conference), the Herd shifts from conference champion to tournament underdog.
"We had our celebration," junior guard Jon Elmore said. "That kind of ended (Sunday) morning. We're locked back in, we're going to go back to the drawing board tomorrow. Fly out there and get ready."
The 13 seed in the East Region, Marshall, ended its 31-year drought without an NCAA tournament appearance and prepares for Friday's contest against the four seed Wichita State—a team with extensive tournament history. Since 1964, the Shockers have earned 15 total NCAA Tournament appearances, including a stretch of seven-straight tournament bids since 2012.
Historically, the Shockers have appeared in Final Four twice (1965, 2013), the Elite Eight four times (1964, 1965, 1981, 2013) and the Sweet 16 six times (1964, 1965, 1981, 2006, 2013, 2015). Despite extensive NCAA Tournament history, the Shockers have never finished higher than the Final Four. Marshall is currently a 12-point underdog, but carries a confident mindset.
"(Wichita State) is a great team with great tradition as of late," Elmore said. "We're looking forward to it. We're going in confident. We know what we're capable of. It'll be a good matchup."
Marshall is on a four-game winning streak that includes a road win over then No. 24 Middle Tennessee and a Conference USA Championship win over WKU—a team that completed the season sweep over the Herd. After ranking seventh in the C-USA preseason poll, the Herd defied statistical odds as it won its conference championship. Marshall is used to being the underdog.
"That was our story from the beginning of the season," junior forward Ajdin Penava said. "We're used to it, so we know what to do. We have to go out there, play our best and bring energy and effort. Our game will speak for us."
Marshall has yet to win an NCAA Tournament contest. Comparatively, head coach Greg Marshall's Wichita State team has claimed at least one NCAA Tournament victory every year since its 2012 loss to Virginia Commonwealth. Marshall head coach Dan D'Antoni said he has high hopes of breaking that streak in his first tournament appearance as a head coach.
"The first time you (go to the tournament), it's very difficult to break through," D'Antoni said at Marshall's selection Sunday viewing party. "Let's see if we can't win this thing. Our goal is to win it all and then get together and enjoy that ride, wherever it stops."
Marshall is 1-1 in its two prior games against Wichita State. In the teams' first meeting in 1940, the Shockers defeated the Herd 36-33. The Herd answered, though, with a 60-24 win the following season (1941). Since then, the two schools haven't met in men's basketball.
"(Wichita) has a lot of good guards and a lot of great pieces," freshman guard Jarrod West said. "Coach Marshall is a great coach. They've won a lot of games in the NCAA Tournament, and they've built that program to an elite level. So, we have to be ready to play."
Rick Farlow can be contacted at [email protected]