Clock strikes midnight on Herd's magical season
Marshall falls to WVU in Mountain State showdown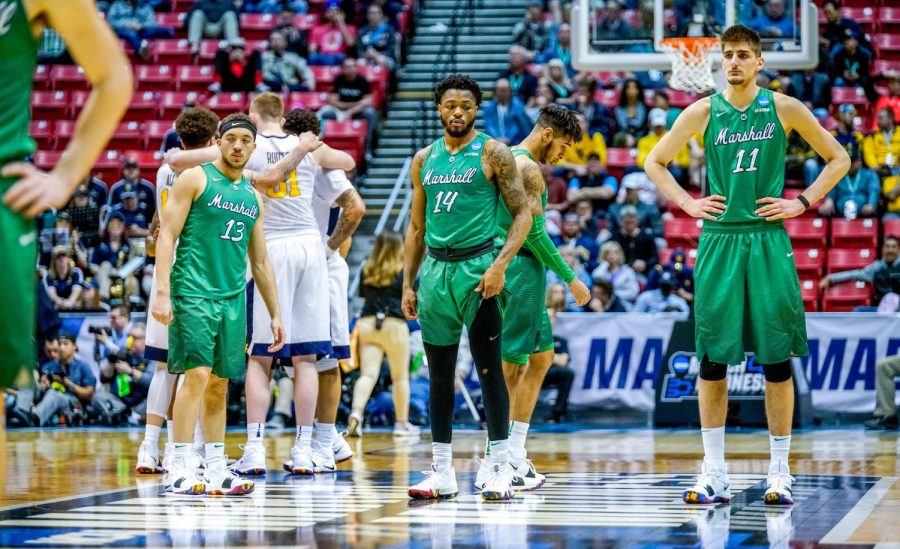 Advertisement
SAN DIEGO—After a season in which it defied preseason odds by winning the Conference USA Championship and its first-ever NCAA Tournament game, the Marshall Thundering Herd men's basketball team fell to the West Virginia Mountaineers, 94-71, Sunday night at Viejas Arena.
"Proud of our kids," Marshall head coach Dan D'Antoni said. "It was a great journey. They've lifted Marshall basketball further than it's been, ever. I think you will be surprised what we'll do in one year."
With the loss, Marshall finishes the season with an overall record of 25-11 and is eliminated from the NCAA Tournament. WVU improves to 26-10 and advances to the Sweet 16, in which it will travel to Boston, Massachusetts to take on Villanova.
"We ran into a very good West Virginia team," D'Antoni said. "They should be proud of the way they played."
In the first men's basketball matchup between the two teams since 2015, WVU played its trademark full-court press, forcing the Herd into 18 turnovers, which translated into 26 Mountaineer points. The Mountaineers' leading scorer was senior guard Jevon Carter, who had a game-high 28 points, as he was 10-for-18 from the field, 5-for-7 from three and 3-for-3 from the line.
"(Jevon) Carter is an exceptional player," D'Antoni said. "He determines a lot of things out there. I congratulated and told him how good he was, and told him to get the hell out of here. Tired of seeing him. He's tough."
Poor shot selection plagued the Herd, as well. Marshall shot 22-for-56 (39.3 percent) from the field, 12-for-26 (46.2 percent) from three-point range and 15-for-21 (71.4 percent) from the line. Comparatively, the Mountaineers shot a combined 33-for-66 from the field, 12-for-25 from beyond the arc and 16-for-18 from the line.
"Our ball movement wasn't good enough," D'Antoni said. "We were too slow. We were coming up into the play and really got into space and, when we did, we stood and watched the ball instead of making strong cuts and moves against a team that's not going to let you set up."
After Marshall used the three-pointer to take an early 16-8 lead, WVU stormed back, as its sophomore forward Lamont West hit a three to put the Mountaineers up 21-20 with 10:16 remaining in the first half. From there, WVU wouldn't relinquish the lead for the rest of the game.
Marshall scored 25 points in the first half, its second-lowest first half point total of the season (26 against ODU) and its lowest point total since the first round of 2015 C-USA Tournament against Western Kentucky. In the half, Marshall shot a combined 8-for-26 from the field and 4-for-10 from three. WVU took a 42-25 lead into halftime.
Junior forward Ajdin Penava led the Herd offensively. Penava scored 18 points, shooting 7-for-9 from the field, 2-for-2 from three and 2-for-3 from the line. Penava added six rebounds and six assists to his stat line. Junior guard Jon Elmore scored the second-highest point total for the Herd with 15. WVU contained Elmore's shooting effort, as he went 4-for-12 from the field and 3-for-nine from three. Elmore tallied four assists and four steals, as well, in his 37 minutes of play.
"(WVU) is a heck of a team," Elmore said. "They get after it. I think their physicality. They defend, trap, run all different kinds of guys at you. They did a great job."
Junior guard C.J. Burks was Marshall's only other player to reach double-digit scoring. Burks was contained to 12 points, as he shot 3-for-15 from the field, 2-for-6 from three and 4-for-4 from the line. The last time Burks eclipsed 20 points of total scoring was in the first round of the C-USA Tournament, where he dropped 29 against UTSA. Penava, Elmore and Burks combined for 45 of Marshall's 71 total points.
"We're going to have to go back to the drawing board," Elmore said. "(We) have to get bigger, better, faster, stronger. That's what our guys are going to do."
The Thundering Herd was ranked seventh in the C-USA preseason poll. Despite that, Marshall went on to win its first-ever C-USA championship and forced the Mountaineers into a faceoff with its first round defeat of Wichita State. As Marshall travels home to Huntington, it expects to return nine of its top players in its attempt to return to the NCAA Tournament for the second-straight season in 2019.
"Nobody lost this game," D'Antoni said. "We won. We had the passion of West Virginia people there passion of Marshall people there. That's what life is about. We came up on the short end. We're not always going to be on the short end. We're going to climb. Those boys will be back in the gym in two weeks."