Social work professor recalls memories from civil rights movement at Marshall University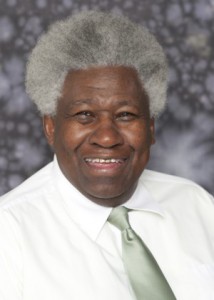 Philip W. Carter is a social work professor at Marshall University that has been fighting social justice for over 50 years.
Carter was born in Widen, West Virginia and is married to Beverly Carter. He graduated from Kelly Miller High School in 1959, which was a segregated black school in Clarksburg. After graduation, he enrolled at Marshall as a political science major. West Virginia University was the first college choice for Carter, but it didn't allow African Americans to join any sport teams. Marshall was one of the first white universities to consolidate athletes at an undergraduate level.
Carter said when he first came to Huntington, there was nowhere he could enter unless it was part of an event for the university.
"During the civil rights movement in 1959, when I arrived on campus, there wasn't anything around campus that we could eat at besides two places, and we weren't allowed to see a movie as African Americans," Carter said. "We were only allowed to go to attend a theater whenever there was an artist series because we would have to pay money like the rest of the students. If we were allowed to enter a movie theater, then we would have to sit in the main back. There was no where you could go to have fun."
Carter was also the second African American athlete at Marshall, after Hal Greer, and played basketball. After practice, he said the team would go to local establishments, and those who were black could not go. This was when Carter and other members became tired of getting treated like they meant nothing to society.
Carter said he decided to experiment while he was home for the summer in Clarksburg.
"A guy named Roy Davidson and I decided to chant at different restaurants and proceeded to get thrown out of them," Carter said. "We got tired of getting thrown out of the restaurants and told them that we were going to eat here. We ended up getting arrested and going to jail. That was my first experience in 1961."
The next year, Marshall Grayson, the president of the Huntington National Association for the Advancement of Colored People, encouraged Carter to take over Bruce Moody's position as the leader for Civil Interest Progressives. Students got together, made picket signs and went to multiple restaurants, swimming pools and other establishments to make their voice be heard. There were some difficulties, but a bigger issue was encountered with the restaurant called Bailey's Cafeteria.
"They tried to stop us from picketing, so that ended up in court," Carter said. "That was our first encounter in court as well. We ended up winning that case."
Carter said they kept trying to have their voices be heard at another restaurant on 9th street called White Pantry. Carter was stabbed by the owner, was thrown in jail again and a year later, the court case was won. Eventually, the owner of that restaurant stopped trying to prevent African Americans from eating there, but there was one catch.
"The deal made from the owner was that anyone can eat at his restaurant besides Rick Diehl, a white student from Marshall, and I," Carter said. "These were all of the unique experiences that I encountered in the civil rights movement and ones that I'll certainly never forget."
Friendships were what Carter said he cherished the most and were his favorite thing about moving to Huntington. He said his friends were the backbone to what helped him survive Marshall.
"At that time, if you can get through Marshall, you can get through anyone, anywhere or anything," Carter said. "The things that my friends and I have faced are very important to know because it's what prepared us to survive. That was the power of that experience and what we believe."
In 1980, he formed the only black political action committee in West Virginia, Ohio and Kentucky at the time. Carter was also elected president of NAACP from 1988-1992 and 1996-2000. He has been acknowledged for his triumphant leadership for social justice by political, academic, labor and community organizations in other states such as Pennsylvania, Florida and California.
Carter chose a career in social work because he was involved in so many situations that took part in the civil rights movement, and he said it made him care about people more and want to look out for them. He wanted to be the change to society and make a difference.
"Social work was a profession that helped change the policy, that changed things through the legislation and helped changed confrontation," Carter said. "I think I understand that and I want to be a part of it."
Alison Baldridge can be contacted at [email protected].