Herd football can start win-streak against Charlotte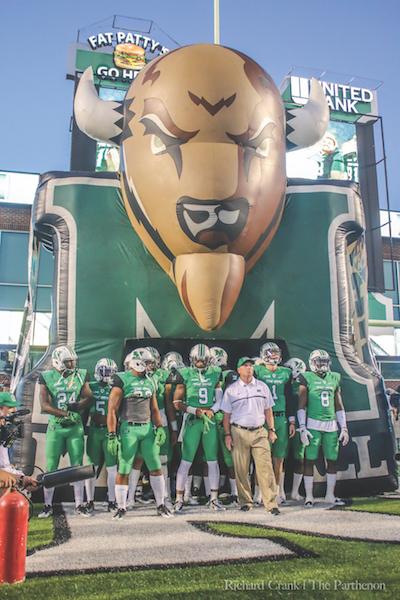 A week after earning their first conference win of the season, the Thundering Herd will try to earn its second conference win this weekend against the Charlotte 49ers.
The Herd is coming off a late win it earned with an impressive goal line stand in the final minute of play versus Florida Atlantic University on Saturday, Oct. 15 that ended its four-game losing streak.
Charlotte is coming off a one-point loss against Florida International University that saw it surrender three passing touchdowns and the lead with just a minute left to play.
Last year's meeting between the two teams saw Marshall quarterback Chase Litton, a freshman at the time, throw for a career high in yards with 486, as well as two touchdowns in the 34-10 win. Charlotte allowed Marshall to amass 630 yards in the game.
Marshall's defense will face quarterback Hasaan Klugh in just his third start at quarterback. Klugh played well in his second start, completing 67 percent of his passes and throwing a touchdown. Klugh can also use his legs to extend plays, which he demonstrated last week rushing for 95 yards and a touchdown.
Marshall head coach Doc Holliday said he is aware of what Klugh has done in his first two starts as Charlotte's quarterback.
"They brought him in against ODU and since then, they have played their best football," Holliday said. "They went to FAU and won there and had the opportunity against FIU in their stadium."
Holliday said the 49ers have improved since their matchup a year ago and said he is impressed with what Charlotte offensive coordinator Jeff Mullen has been able to do with the young quarterback.
"Their quarterback makes them a lot better," Holliday said. "Just look at his stats. He doesn't look like a guy who is young and hasn't played a lot of f ootball."
The 49ers' starting halfback, Kalif Phillips, has established himself as one of the best backs in Conference-USA and is poised for a big game against a Herd defense that is allowing 200 rushing yards a game.
Phillips will look to extend his streak of 100-yard rushing games to five in a row against the Herd. The 49ers are ranked third in the conference in rushing offense and are coming off a huge 232-yard performance last week against FIU.
Marshall will look to establish a balanced offensive attack against Charlotte after Marshall running back Keion Davis found success last week, running for 74 yards and two touchdowns.
Marshall center Levi Brown said he knows the importance of a balanced offensive attack that will keep the defense guessing.
"We need to establish the run game and be able to run when we want to. Establishing the run earlier and finding more balance as a whole will make the offense better as a whole. It is all about execution," Brown said.
Every week, the Herd defense has seemingly faced a talented defensive lineman. FAU's Trey Hendrickson, Akron's Jamal Marcus and, this week, Charlotte's Larry Ogunjobi comes to town.
Ogunjobi was named to the preseason watch list for the Bednarik Award, which is awarded to the best defensive player in college.
Ogunjobi set a school record last year with 14.5 tackles for loss, but also owns many career records for the 49ers. He holds the record for most tackles, sacks and quarterback hurries in school history.
Brown, a redshirt freshman for Marshall, credits extra time in the film room for the line's success in handling talented lines this year.
"It is about knowing what to do on third down, knowing what the defensive end is doing on running and passing downs," Brown said. "We have different things we do to counter different lineman personnel, we just need to watch the film and come up with the right blocking scheme."
Marshall can improve to 2-1 in the conference with a win against Charlotte, putting them in prime position for a conference championship run despite the rough start to the season.
Troy Alexander can be contacted at [email protected] marshall.edu.