Bye week, but no off-week for Herd football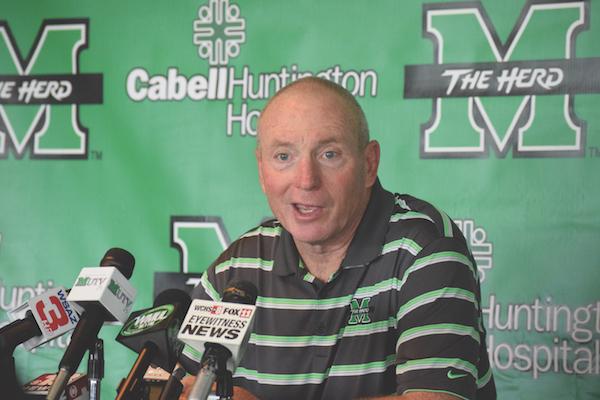 Before Marshall head coach Doc Holiday opened his first press conference of the 2016 season, a member of the media attempted to have some fun with the Hurricane native, summing up the mentality of the entire team in the process:
"Is it game week yet?"
With the Herd starting its season off with a bye week, Marshall coaches and players alike are anxious to take the field. Marshall opens its season next week, September 10th, at home against Morgan State.
"It's the first time in all my years, playing and coach, that we haven't opened up that opening weekend," said Holiday. "After we finish up our mock game on Saturday, we'll have the opportunity to watch some guys play on opening day, so that'll be different."
The Herd has not opened a season with a bye since 1981, when it defeated Morehead State, 20-17, on September 12. Since then, Marshall is 23-9 in its opening week of the season, while facing off against Power 5 Conference teams, such as West Virginia, Ohio State and Purdue over that span.
Despite having an extra week off, Holiday insisted his team won't be simply sitting around while others play.
"What we have to do this week is worry about ourselves getting better," said the sixth year head coach. "We have to go out every day like we always do and this will be sort of a camp week still. So to speak."
Holiday's one week at a time mentality has largely rubbed off on his players, including sophomore quarterback Chase Litton, who will be expected to take more of a lead role in the locker room this coming season.
"Everyone wants to play ball," said Litton. "But, when you look at it, that's our best of the time they gave us and we've got twelve weeks of ball after that."
While the quarterback echoed the sentiments of his coach, he did admit he and his teammates are eager to get underway.
"We're all anxious, you can tell that we want to play," Litton said "What we count now is really still being in camp but we want to play, we want to get out there and show everybody what we've been working on this summer and show everybody what we can do."
The Herd will have plenty of opportunities to show off what they can do on a national stage this season. Marshall will play back-to-back games on CBS Sports, against Akron and Louisville respectively, and finish their season on ESPN, against conference foe Western Kentucky. Marshall also takes on Pittsburgh at Heinz Field in October, a game widely expected to be nationally televised.
Jacob Griffith can be reached at [email protected]
Leave a Comment