Thundering Nerds carve out a math challenge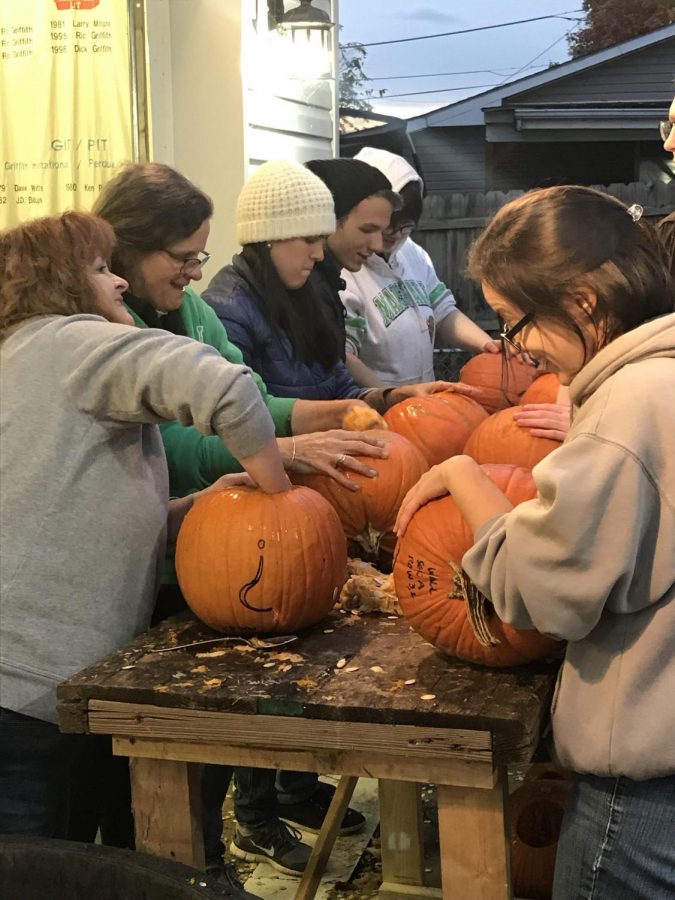 The Pumpkin House of Kenova draws in crowds every Halloween to witness the massive number of carved pumpkins lit up. For the third year in a row, Marshall University's math club, the Thundering Nerds, has issued a unique challenge to area middle and high schools.
The Thundering Nerds have started their own tradition of carving one large math problem into pumpkins to be put on display at the Pumpkin House among the other carvings of people, phrases and cartoon characters. However, this year gets even more unique as, instead of a math problem, the group has decided to carve a Sudoku puzzle into their pumpkin display for local schools to try and solve.
"It's such a great opportunity," Elizabeth Niese, professor in the math department and faculty advisor for the Thundering Nerds, said. "It's so hard to be visible in the community as a math club and to just get math out into the community, but we've had really good participation, and this year, we are doing a Sudoku versus the math quiz we have done in the past, partly because it's more accessible for middle school students. It's more based on logic than it is on mathematical knowledge, so we feel like it evens the playing field."
With a goal of making the field of mathematics a fun and easily accessible topic for area students, the club treasurer and math student, Faith Hensley, said the club was excited to get out into the community, enjoy Halloween traditions and showcase the fun that math can be.
"It gives Marshall and the math club a little bit of recognition in the community," Hensley said. "But it's also fun for me personally, because we get to hang out with other people who love math in less of a math setting, which can be kind of scary for someone who isn't as into it as some of us are. Plus, we get to get involved in Halloween fun away from home. I was afraid I wouldn't get the chance to carve a pumpkin, but here, we are carving over 100 together."
The math club has issued the problem to all area middle and high schools for the duration of the Pumpkin House display, with the promise of a prize to the school that solves the Sudoku correctly.
Breanna Francis can be contacted at [email protected]