We Are…. helpers: Herd for the Homeless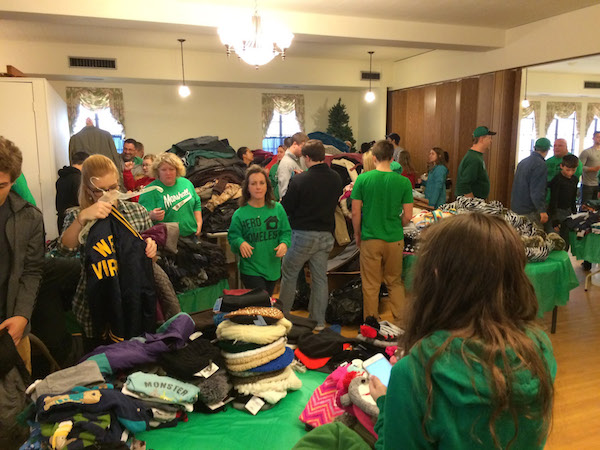 Early on a crisp Saturday morning, while many people were still in their beds, one Marshall alum was wide awake.
"I got up at 5 a.m. this morning; I just couldn't sleep I was so excited for today," said Matt Hayes Executive Director of Alumni Relations.
Hayes got an early start for Saturday's alumni outreach event "Herd for the Homeless" at Trinity Episcopal Church. The event aimed to unite alumni and reach the needs of people in the Huntington community.
The Marshall University Alumni Association organizes alumni events throughout the year, but this event focused specifically on serving the Huntington community.
"The idea came from a collaborative team meeting," Hayes said. "We were looking for a way to serve the homeless in our community."
Trinity Episcopal Church has a weekly breakfast and clothing ministry to the homeless, and Hayes said "it just made sense" to join forces with Trinity and continue their work by serving lunch and collecting coats and other winter supplies. Hayes said the event could meet the needs of the most people at one time.
President Jerome Gilbert came to help as well. He said he was glad to take part with the alumni to serve the Huntington community.
"This is really unique and special to Marshall," Gilbert said. "This level of service is beyond what I've seen before; the amount of help and donations is incredible."
Hayes worked with Missy Browning, program coordinator of the Marshall University Joan C. Edwards School of Medicine Psychiatry Residency Program, to plan the event and organize donation locations and sponsors.
Around $1,200 was donated from organizations like the Rotary Club of Barboursville, Woodmen of the World and other individual donors. The money was used to purchase socks, underwear and blankets for the homeless.
The Herd for the Homeless event also promoted a coat drive, and they collected a total of 992 winter coats for adults and children. The coats that were undistributed on Saturday are being donated to local organizations that help the homeless, like Huntington City Mission and Harmony House.
Hayes said he wants to set an example for the network of Marshall alumni around the country.
"That's a driving force behind this event," said Hayes. "As director of alumni relations, I want our alumni clubs to step up and serve a need in their community. To do this [event] in the name of Marshall is really special to me."
Herd for the Homeless was organized by the Alumni Association, but the event was open to the public as well. Several members of the community and Marshall students came to help serve lunch, act as "personal shoppers" for the donations and clean up.
"Huntington is a wonderful place," said Hayes. "I'm pleasantly surprised with the turnout here; we've gotten so many donations and helpers. People are so giving and so generous. I'm blessed I get to be a part of this community."
Volunteers helped serve a hotdog lunch, with desserts made and donated by the New Baptist Church, and sat and talked to the families and individuals in attendance. After lunch, the homeless could "shop" from the donations with a volunteer as a "personal shopper" who helped meet their needs.
Over 200 bags of food were given away, as well as winter clothes, hygiene supplies and undergarments.
Gilbert said he enjoyed seeing the effect of Marshall on the community, and he wants to continue fostering the relationship between the two.
"I think it's great to be able to connect with people who have some tie to Marshall," Gilbert said. "Some of the people being served today are wearing Marshall gear; there's such a strong tie to the university in this community."
One of Gilbert's initiatives as the university president is to encourage the Marshall community to be engaged and interactive with the community, regardless of need. He said events like Herd for the Homeless help reinforce the idea of civic responsibility.
"We're here to help people," said Gilbert. "Not just as a university, but I believe we are here on earth to help our fellow man."
Brooke Estep can be contacted at [email protected].
Leave a Comment
Your donation will help continue the work of independent student journalism at Marshall University. If you benefit from The Parthenon's free content, please consider making a donation.