After injury, Akers ready to make an impact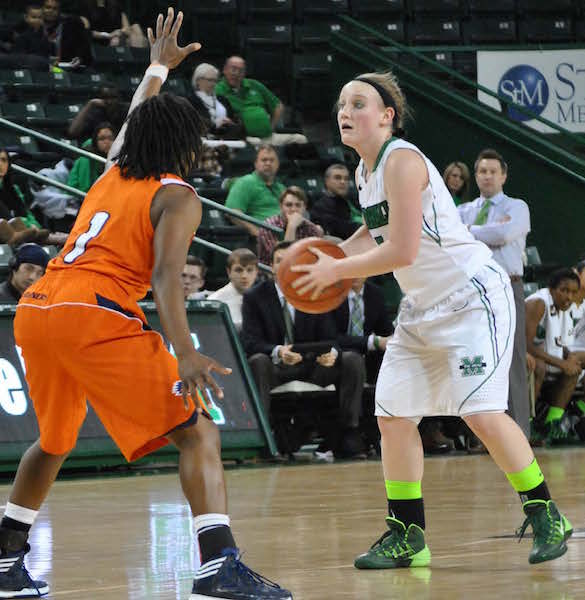 Going into last season, the Marshall women's basketball team looked primed and ready to make a push toward the NCAA Tournament. After all, head coach Matt Daniel's team was bringing back players such as Leah Scott, Norrisha Victrum and junior McKenzie Akers.
Akers, from Princeton, West Virginia, was expected to make a sizeable impact in both the huddle and on the court. That is, until Akers suffered a devastating anterior cruciate ligament injury in the preseason, putting her on the shelf and forcing her to redshirt.
Despite the injury, Akers was not about to let go of her dream.
"Any injury is hard mentally, but especially something as serious as an ACL, some people don't recover fully," Akers said. "That was a worry in my heart, but, at the same time, I love basketball so much I didn't want to have that on my mind, I wanted to play."
That desire is what drove Akers this offseason during rehab, helping her get as close to 100-percent health as possible. Still, Akers deals with the usual aches and pains that comes with a severe injury, but, as is par for the course, Akers does not let that bring her down.
"I wake up in the morning and go 'oh, it's going to rain today,' it's another talent that I have," Akers joked. "I'm hurting today, but at the same time, my love for basketball and love for the team, I want to play."
Now that Akers is back and the injury is behind her, Daniel and the coaching staff are expecting her to pick up right where she left off.
"One of the things you don't realize you miss until it comes back, Norrisha last year was our voice on the floor," Daniel said at this year's Conference-USA Media Day. "She was always talking in every drill. When we had McKenzie, it was two people. [Akers] being back has really helped that alone, aside from her skill set."
While her leadership abilities will be big for a younger Marshall women's basketball team, her skills will be just as valuable, much as Daniel suggested. Akers is tenth all-time in Marshall women's history with 87 three-point field goals. Before she went down, the redshirt-junior played in all but two games, making eight starts.
Jacob Griffith can be contacted at [email protected]
Leave a Comment