Marshall players prepared for rivalry match
More stories from Ishmael Witten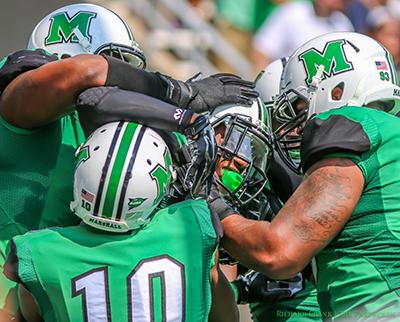 Known as the Battle for the Bell, Marshall University and Ohio University have faced the last six years and will meet again Saturday in Athens, Ohio.
While the teams' rivalry dates back to 1905, a brief hiatus ensued when the Herd left the MAC Conference for Conference USA in 2005.
However, after an unexpected meeting in the 2009 Little Caesars Pizza Bowl, the two teams signed a six-year contract to bring the annual game back.
Last season, Marshall came away with its second-largest margin of victory in the last six years, winning 44-14 at Joan C. Edwards Stadium.
Although the Bobcats lead the overall rivalry and before last season had three consecutive victories, the Herd has enjoyed its share of successes, as well.
Over the teams' last 10 meetings, the Herd has a record of 7-3. As impressive as that may be, head coach Doc Holliday said his team is still approaching this game as it would any other.
"
"We got the 'W' and now we have to focus on the task at hand. It's going to be a great game.""
— Taj Letman
"They're going to be extremely well prepared," Holliday said. "Coach Solich is a tremendous coach, and he's going to have them ready to go."
Safety Taj Letman said despite coming off of an impressive performance against Purdue University, the team feels it is important to leave Sunday's victory in the past.
"We have to stay focused and forget Sunday's game," Letman said. "We got the 'W' and now we have to focus on the task at hand. It's going to be a great game."
Quarterback Michael Birdsong said it is important for the team to obtain an identity.
"We've got to continue to get better," Birdsong said. "We have to keep working on finding ourselves. But we'll be fine, no worries."
The game is scheduled for 7 p.m. Saturday at Peden Stadium.
Ishmael Witten can be contacted at [email protected]
View Comments (2)