MU Receiving Corps Looks to Replace Production Loss
More stories from Ishmael Witten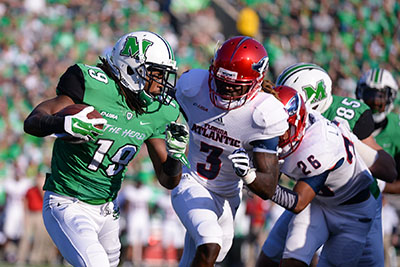 Despite losing two of its most productive receivers from last season, Marshall University football team's current receiving corps is confident it can continue last season's success.
Sophomore receiver Deon-Tay McManus, who caught 26 passes for 422 yards and six touchdowns last year, said he thinks the team's young receivers will pick up the production that will be missed with the loss of Angelo Jean-Louis and Tommy Shuler.
Jean-Louis and Shuler combined for 15 touchdowns last season.
While the team parted ways with Jean-Louis during training camp, Shuler— who caught the most passes of any receiver in Conference USA since 1996— graduated in the spring.
McManus said taking the place of Shuler is not something he or any receiver intends to do. He added that the team's slot receivers will play a major role this season.
Replacing Jean-Louis and Shuler is only half the battle for the Herd, as the team's receivers will need to develop a rapport with the program's new starting quarterback Michael Birdsong.
Tasked with taking over for former quarterback Rakeem Cato and adjusting to a new set of receivers, Birdsong credited the offseason practice schedule.
"
"We've been out here grinding everyday. So, hopefully, throughout the season we won't have to get too much better.""
— Michael Birdsong
"Fortunately, we've had a long spring and a long summer," Birdsong said. "We've been out here grinding everyday. So, hopefully, throughout the season we won't have to get too much better."
Ishmael Witten can be contacted at [email protected]
View Comments (4)