Marshall Parts Ways with Jeff Waggoner after 16 Years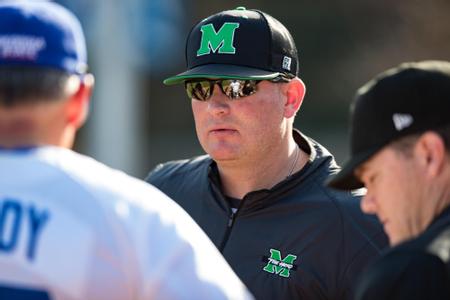 Marshall baseball coach Jeff Waggoner will not return to his position next season, Athletic Director Christian Spears said.
"We wish Coach Waggoner well and will begin a search for a new coach immediately," Spears said.
"The future of Marshall baseball and the experience of our student-athletes, as well as the completion of our new baseball stadium, will continue to be our top priority," Spears said.
Spears said the search for a new coach will be nationwide.
Waggoner coached a school-record 820 games with a record 339-478-3. During his tenure, he coached 30 Thundering Herd players who were drafted or signed at the professional level, four of which made the major league. In 2016, he was named Conference USA's Coach of the Year after a program-best 34-win season.
Waggoner played catcher for two years at Crowder College, a junior college in Missouri before transferring to Cleveland State. He had previously served as an assistant coach at George Washington, Kent State, and NC State before taking his first head coaching job at Marshall.