MU Announces Christian Spears as New Athletic Director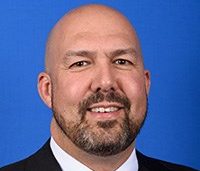 This morning, an email from President Brad Smith announced the new Marshall University Athletic director as Christian Spears coming from the University of Pittsburgh.
Spears was one of four candidates brought in from the university's national search. This includes interim athletic director Jeff O'Malley as a candidate. The Board of Governors gathered in an emergency session this morning to take a vote, where they confirmed President Smith's selection.
"Christian Spears is a transformational leader who exhibits a deep respect for tradition, combined with an ability to architect a vision to unleash potential," said Brad Smith.
He looks forward to welcoming Spears to the Marshall community effective March 14th, where he will take over the 16-sport program with a budget of $30 million.
Spears has been working in athletics for over twenty-five years, including years spent working under Heather Lyke who is one of only six female athletic directors across the country. Spears worked for her for two years while graduating law school, he describes the impact she had on his early career as "unbelievable." After he got his law degree, he left his two years with Heather and went to Harvard University and worked there for a couple of years. Following that, went to Southern Illinois University and worked there for six years. Then, to Northern Illinois where he worked for five years.
Spears has been at Pitt for five years working under Lyke, who remained a colleague even throughout the years where they were apart.
"I am thrilled for Christian and Marshall University. Christian has been a trusted colleague and friend for decades and an invaluable leader in our department. Marshall University is getting an experienced and visionary leader who brings positive energy, intellect, and a can-do mindset, but most importantly, someone who has a genuine interest for the well-rounded success of student-athletes," said Lyke.
An event to introduce Spears to the Marshall and Huntington community is being planned, with more details soon to follow.