Sideline to soldier: the Marshall journey of Second Lieutenant Simmoneau
From field to sideline to soldier to second lieutenant, Mike Simmoneau got the full Herd experience.
Second Lieutenant Simmoneau is a 2018 graduate of Marshall University who said he credits his time at Marshall for building his foundational leadership skills.  He was a member of the Thundering Herd cheerleading team, a soldier in the West Virginia Army National Guard and a cadet in Marshall's Reserve Officers' Training Corps.  Each facet of involvement guided the lieutenant to a stronger idea of how to lead, he said.
He was a cheerleader from 2015 to 2018 for the Thundering Herd.
"Being a captain on the cheer squad helped me see how my coach was leading," Simmoneau said.
Simmoneau said his time as an enlisted soldier offered him the chance to shadow more experienced officers.
"It helped m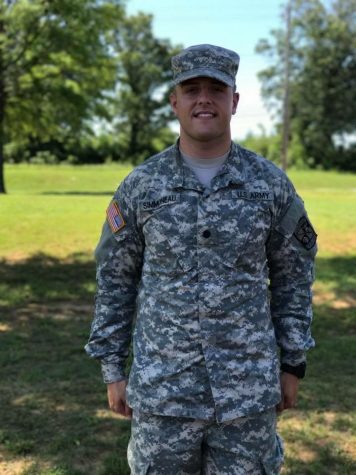 Photo courtesy of Mike Simmoneau
e see what they do, what to do and what not to do," Simmoneau said.
ROTC presented Simmoneau with challenges that pushed him physically and mentally.  He said he recalls one difficult obstacle in ROTC was his Advanced Camp training.  Advanced Camp is a 28-day training held annually at Fort Knox, Kentucky, in the summer before an ROTC cadet's senior year of college.  It is one of the final steps to becoming an officer in the U.S. Army. 
"In our 28 days there, most were spent in the field, and I think we only got to shower twice," Simmoneau said. 
He said he even felt like his training with ROTC was more difficult than his enlisted basic training.
One skill Simmoneau said he learned at Marshall was time management.  He credits his extracurricular affairs to preparing him for his future.
"Being able to juggle that stuff helps way after college too," he said.
When Simmoneau first came to Marshall in 2014, he was intent on being a Herd football player.  He was a preferred walk on for the team.  Simmoneau soon realized, though, that was not where he felt he belonged, he said.
Since independence is foremost on Simmoneau's mind, he made his decision to join the United States Army Reserve in one day.
"I've always been one to want to support myself and hate asking my parents for money," Simmoneau said. "I figured that would be a good, quick way to support myself."
After graduating Basic Combat Training and Advanced Individual Training at Fort Leonard Wood, Missouri, he returned to Huntington where he began another unexpected adventure.
"I've always wanted to learn how to do a backflip off the ground," Simmoneau said.
After befriending some Marshall cheerleaders, his goal was fulfilled. They taught him how to land a backflip after three attempts.  The coach took notice of his natural ability and asked him to join the cheerleading team at Marshall.  After a week of deliberation, he accepted the coach's offer because of scholarship opportunities, getting to be close to the action during sporting events and to be around girls, he said.
At Marshall's annual Rec Fest is where Simmoneau said he began the journey that earned him the title of second lieutenant.
"Mrs. Brewer got ahold of me," he said.
Kelli Brewer is Marshall ROTC's Recruit Operations Officer.  After exchanging contact information, he chose to join the ROTC program.  This proposed the opportunity to transition from an enlisted soldier to an officer in the U.S. Army.  The duties of an Army officer focus on leading enlisted military personnel.
"Being in the military as an officer is all about leadership," Simmoneau said.
Simmoneau said he enjoys being an officer more than an enlisted soldier because he gets to lead.
"I like being in the position to teach others, and that is important," he said.
The pillar beneath the motivated mind of Simmoneau's successes are perseverance and desire for independence.
"Marshall gave me the opportunity to achieve my goals and opened up doors for me to create a brighter future for me and my son," Simmoneau said.
Meg Keller can be contacted at [email protected].
Leave a Comment
Your donation will help continue the work of independent student journalism at Marshall University. If you benefit from The Parthenon's free content, please consider making a donation.