An orientation love story, 40 years in the making
They say that people fall in love in mysterious ways, and for one couple, it all started more than 40 years ago in a three-hour-long line at their Marshall University new student orientation.
In July of 1975, Rick and Ludean Parks began their Marshall journey at orientation, which looks quite different from today's. At that time, orientation was a two-day process, which involved thick green folders, punch cards and a tuition payment costing less than $200. To schedule classes, students started in the basement of Old Main where they would then wait in two separate lines to meet with the bursar, a process that lasted up to three hours.
"He was in one line, and I was in line beside him. So, we ended up standing beside each other," Ludean Parks said.
She, a tentatively engaged school library media major from St. Albans, W.Va., and he, a talkative broadcast journalism major from Moundsville, W.Va., struck up conversation during their time in line, but the two parted ways and did not see each other again until the first day of classes.
"The first semester, actually the first day, I had a speech class, and she walked in not knowing anybody," Rick Parks said, "and she recognized me, so we sat together."
"And I'd already figured out by that time that this man could talk to a rock and it would talk back to him," said Ludean Parks, which she knew would help her get through her dreaded speech class.
The two got to know each other in that first semester,and in the second semester became close friends, although she was still with, "whatshisname", as Rick puts it.
Over the summer, the two worked in their hometowns, but stayed in touch, with Ludean calling him often on the toll-free line at the DMV she was working at.
"I was terrified his parents would answer the phone because—we're talking the 70s—and you don't talk to a boy," Ludean Parks said.
It was during this time that Ludean and whatshisname were having problems, and despite multiple attempts to win her back, ultimately, he had to give up the chase, opening the door for Ludean and Rick.
Their sophomore year, the two became a part of a dinner group of about nine friends who all lived on campus.
"Social media then: you had a whiteboard or a chalk board on your dorm room door," Ludean Parks said. "Our freshman year every floor had one phone. We couldn't go to dinner until all nine of us had gathered."
Friends took notice of the close bond shared by the two, and kept prompting them to just pick a date, seeing that there was clearly something going more than friendship.
One day Rick and Ludean went on a picnic trip at Cabwaylingo State Forest with a couple from their group.
"They got lost in the woods. And we were sitting there, and what are we going to do? So we thought, 'alright let's just make everybody happy and pick the date.'"
The couple has been together ever since. After their junior year, they worked at the new student orientation, and by this time, had already decided they would get married to each other. As workers, they had to stuff folders with various items, including coupons to local businesses.
"They had a bunch of coupons that we stuffed," Rick Parks said. "One of them was for Mack and Dave's, and we had found a ring there. So I went down to Mack and Dave's and got 10 percent off using the freshman coupon."
On October 1 of 1978, the couple again went down to Cabwaylingo, where Rick proposed, and married on July 14, 1979, after the two had both graduated from Marshall. Rick started a career in insurance, which in 1986 required the couple to move to a place they did not know.
Ludean was working at a school in Kanawha county at the time when Rick called and asked the question, "want to go to Elizabeth City, N.C.?" She had an hour to decide.
"The whole school shut down," Ludean Parks recalled. "There were kids on encyclopedias researching North C. The principal ok'd a long-distance phone call to Elizabeth City to contact the mayor's office."
"That was terrifying, because we had no idea where we were going," she said. "We'd never been there, knew not a single soul. He already knew there were going to be issues. I didn't have a job."
"It brought us closer together, too, because we only could rely on each other," Rick Parks said.
"And it's been like that since then," Ludean added. "We've been through so much that I just don't think there's anything that could break us."
Rick and Ludean certainly had their fair share of struggles in life, frequently moving for Rick's job, struggling to have a child for 13 years, being separated for a time after their son was born to accommodate their jobs, sickness and death of parents and a breast cancer diagnosis for Ludean.
After years of being away, Rick took a job back in Huntington, where they ultimately stayed to raise their son. A large reason the couple continues to live here is in gratitude to the doctors at Cabell-Huntington Hospital who treated Ludean.
"Now we're kind of tied here because Cabell-Huntington has been so good to us," Ludean Parks said. "We feel like I'm alive 13 years later because of the doctors here."
The couple just recently celebrated their 39th wedding anniversary, and when it comes to what makes a marriage work, respect, loyalty and love have sustained them
"You always respect your mate," Ludean Parks said. "You have their back no matter what."
"Love each other, obviously, but it has to go a lot farther than that," Rick Parks added.
Franklin Norton can be contacted at [email protected]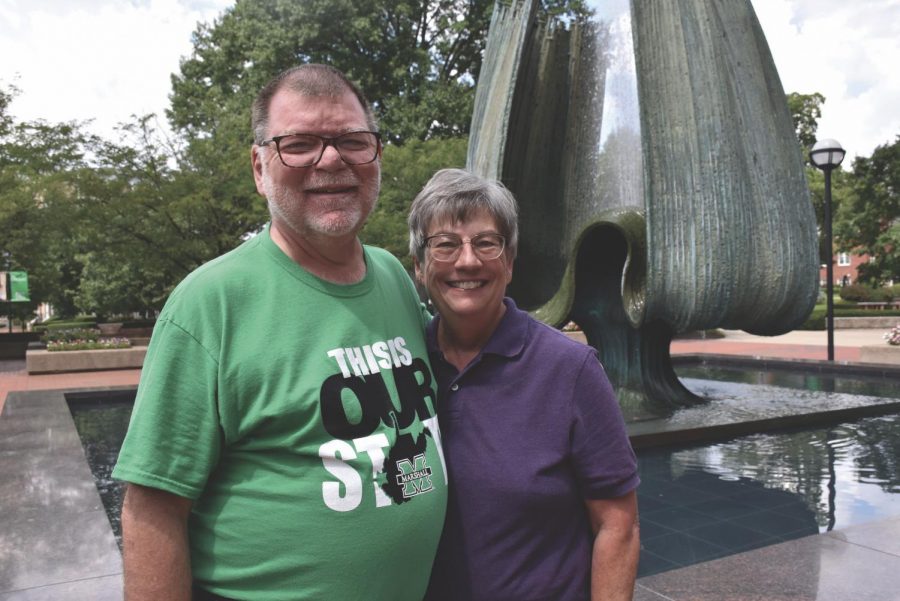 View Comments (2)
Your donation will help continue the work of independent student journalism at Marshall University. If you benefit from The Parthenon's free content, please consider making a donation.