Grindstone Coffeeology celebrates one year with big announcement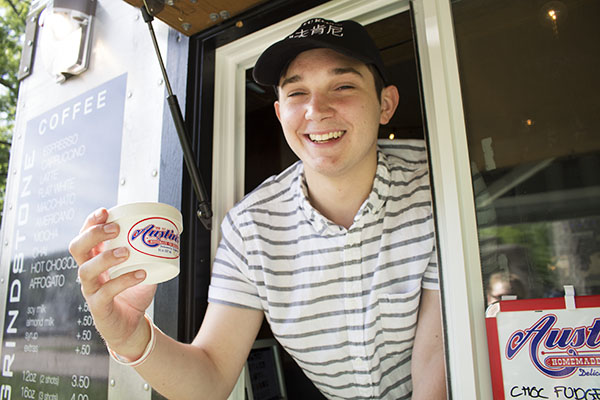 What's a birthday without ice cream? Last week, Grindstone Coffeeology celebrated its first birthday with a big announcement: they would now be stocking products from Austin's Ice Cream, a Ceredo-based ice cream shop well known for its homemade treats.
For a business just a year old, owner Brenden Fenn was surprised when a team from Austin's, operating since 1947, pulled up behind Grindstone's mobile coffee truck one morning.
"A team from Austin's just pulled up behind the truck one morning down here at Ritter Park and asked me if I was interested in stocking their product," Fenn said. "It came from left field and blew me out of the water, really."
Grindstone employee Hunter Way explained that the partnership with Austin's is an important addition to the Grindstone business, as they have been looking for ways to attract more people on warm summer days.
"We've been trying to think of other ways to get to the whole community that isn't looking for coffee on a hot day or a cold drink on a hot day," Ways said. "We're still looking for ways to expand our cold menu, and so Austin's was the best way we possibly could have done it, especially on our birthday."
For Austin's General Manager Tim Ruff, the partnership with Grindstone is important for expanding the brand.
"I'd met them a year or so ago and thought it'd be a great way to get our product out to more people," Ruff said. "There's a lot of people in Huntington that don't make it down this way, or have never been down to Ceredo"
Ruff said the ice cream shop hopes to continue to expand its reach, with their eyes on the Marshall University area in particular. Currently, Grindstone is the only place near Marshall where Austin's Ice Cream can be found, as the truck sits at Ritter Park in the mornings and evenings, and outside of the Marshall University Foundation Hall in the afternoon.
"Austin's Ice Cream is an institution not only in Ceredo but the tristate area," Fenn said. "We recognize that in growing our business, we're not in a sprint—we're in a marathon, and the first year's only the first year. We've got a lot of hard work ahead of us, and we just want to continue that level of partnership with established businesses."
Franklin Norton can be contacted at [email protected]