Clock strikes midnight on Herd's magical season as MTSU repeats as C-USA champs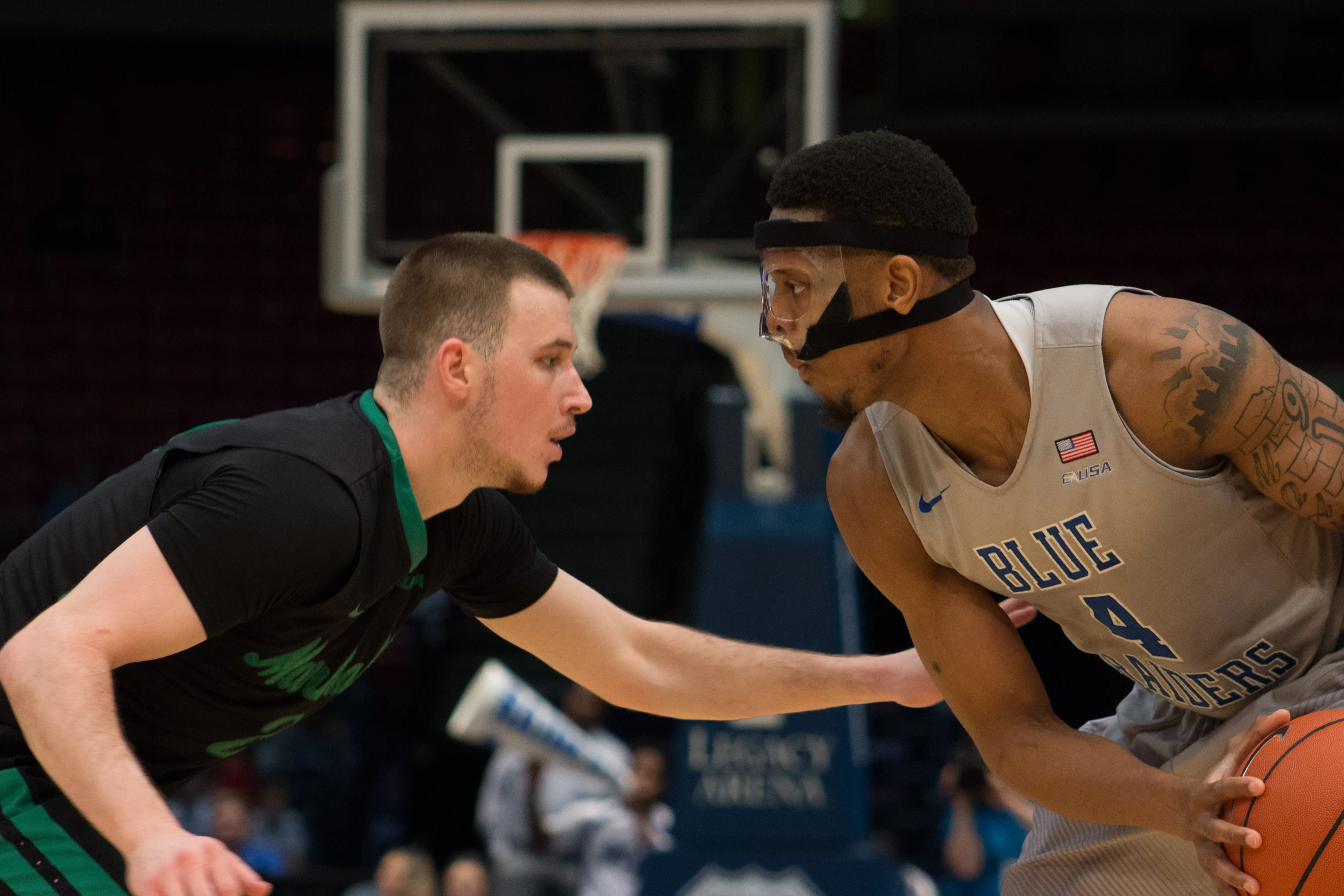 BIRMINGHAM, AL – After doing what some considered unthinkable and reaching the Conference USA championship game, the Marshall magic ran out Saturday night as Middle Tennessee took home the hardware thanks to an 83-72 wire-to-wire win.
The Herd were never able to get off the schnide offensively against MTSU's vaunted defense.
Blue Raider guard and last year's NCAA tournament hero Giddy Potts broke the scoring open less than a minute into the game with a three from the top of the key. Potts then nailed another trey on Middle's next trip up court, extending their initial lead to 6-0.
Marshall's offense struggled to find their form early on. After shooting a blazing 43 percent from behind the arc through the first three games of the C-USA tourney, the Thundering Herd failed to score from deep until the 4:24 mark of the first half, an Austin Loop three that trimmed the Blue Raiders' lead to 10, 28-18.
But, Marshall fought back before the end of the half, coming within single digits thanks to Stevie Browning's step-back three with five seconds left, cutting the lead to eight points going into the halftime break.
Marshall's oft-disrespected defense kept the Herd in the game in the first half, frustrating MTSU, a theme that continued into parts of the second half.
MU opened the latter frame of basketball by finally converting from three-point land to cut Middle's lead to just five points. But, the Blue Raiders insistence on forcing the ball inside resulted in free throw after free throw, helping keep the Herd at bay. MTSU shot 16 free throws in the second half, compared to just six Herd free throws.
The Thundering Herd were able to whittle the lead back down to five with 6:30 left to play. However, the Blue Raiders responded in dominating fashion, pushing the lead back to double digits via a 9-0 run over the next two minutes to give them their largest lead of the game at 14.
From there, Marshall could only get as close as seven points, before Middle closed out their third-straight C-USA title game with a win.
After defying the odds to get to the title matchup, head coach Dan D'Antoni remained positive.
"It's always great to be in the championship game, I wish we could have won it," D'Antoni said. "I thought our kids played good enough to be in it in the end but things didn't go our way. That's the hardest thing about coaching is that things don't go your way sometimes but that's life."
The Herd had no shortage of scorers Saturday. Five Marshall players scored in double figures, led by sophomore CJ Burks' 16-point outing; but, the Herd failed to score in the dynamic manner fans are accustomed to seeing, something leading-scorer Jon Elmore noted after the game.
"We didn't shoot as well as we do," Elmore said. "The whole tournament we shot well until tonight. We've had a good year and it hurts going out like this."
As a team, the Herd shot just 39 percent from the field and 31 percent from three, going 10-31 from deep. Marshall was also hurt by its free throw shooting, or lack thereof. The Herd only attempted 12 free throws the entire game, while the Blue Raiders visited the charity stripe 27 times.
The fatigue was also evident for Marshall. Saturday marked Marshall's fourth game in as many days, with contests against physical squads like Old Dominion and Louisiana Tech preceding their championship contest. Middle Tennessee head coach Kermit Davis was impressed with how well MU played in spite of the wear and tear.
"Marshall played at such a high level for their fourth game in four days, competed hard defensively and made us work hard for things," Davis said. "They made some great shots and had great ball movement. You've got to give Dan and Marshall a ton of credit. We beat a good team that was playing really well."
With the defeat, the Herd are denied a bid to the NCAA Tournament beginning next week. With C-USA being a one-bid league in terms of the tournament, Marshall needed a win to receive the conference's automatic qualifier for the "Big Dance" to get in.
The loss ends MU's five-game winning streak and drops their overall record to 20-15. D'Antoni's attention now turns toward next season, as questions surround a young Marshall team who will be without seniors Ryan Taylor, Austin Loop and Stevie Browning.
WORTH NOTING
The Herd set a new C-USA record for the most three-pointers made and attempted during the tournament. Marshall went 45-of-122 from three-point land to set a new record, previously held by Houston since 2010.
Stevie Browning tied his single-game record for assists Saturday. Browning had six assists in last season's C-USA Semifinals against UTEP.
This is the second time Marshall has finished as runner-up in C-USA. Marshall advanced to the C-USA final in 2012, before falling to Memphis.
THEY SAID IT
 "We're disappointed but we played hard and gave it all we had. We have nothing to hang our heads about but we have nothing to be ashamed of." – senior guard Stevie Browning
"Right now we're not deep enough in our program. We go from three seniors to freshmen and sophomore…We got 20 wins this season and we're in the finals of the conference, the hardest part is taking a team that is maturing against a team that is mature like Middle Tennessee." – head coach Dan D'Antoni
PARTING SHOTS
Despite the loss, the Thundering Herd could still get a bid to the National Invitational Tournament, a secondary tournament to the NCAA Tournament. Marshall has the 2nd-highest RPI in C-USA, ranked 112 in the nation. The Herd also have the 130th-toughest schedule in America, a higher ranking than Middle Tennessee.
Guard CJ Burks seems to enjoy playing the Blue Raiders. Saturday marked the second-consecutive meeting with MTSU that he led the team in scoring. Burks dropped 27 points in the Herd's previous game against Middle back in February.
Jake Griffith can be contacted at [email protected].
Leave a Comment
Your donation will help continue the work of independent student journalism at Marshall University. If you benefit from The Parthenon's free content, please consider making a donation.