Marshall looks for conference win against biggest rival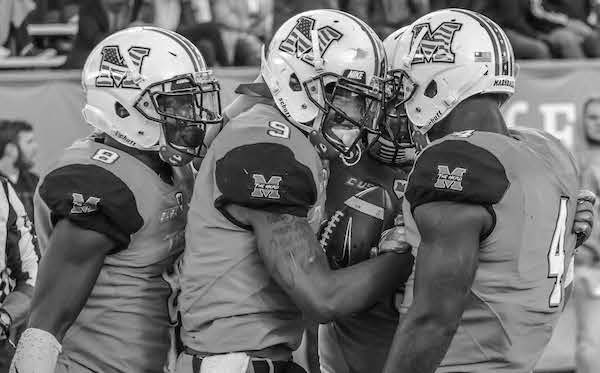 The Marshall Thundering Herd will look to get back in the hunt for a conference championship this weekend when they go up against rival Southern Miss Saturday.
Marshall is coming off a heartbreaking loss last weekend against Charlotte that saw them do everything needed in order to win, but walk away empty handed due to untimely penalties. Southern Miss is coming off a bye week after facing and losing to one of the best teams in the nation, Louisiana State University.
Last year's contest between the two teams was dominated by the Herd's defense, which forced five turnovers on the way to a 31-10 victory. Marshall's offense also found success, with quarterback Chase Litton throwing two touchdowns and Devon Johnson rushing for another.  Marshall has won five straight games against the Golden Eagles, and has an all-time record of 6-5.
Marshall's defense has been one of its biggest weaknesses this season, giving up almost 500 yards a game, good for a 94 ranking out of 128 teams. The defensive unit will need to get in order quickly though, as it is one of the keys to the game against a high-powered Golden Eagle offense. Southern Miss is having an incredible year on the offensive side of the ball, racking up 3,430 yards up to this week, good for 27th in the nation.
One of the reasons for the Golden Eagle's offensive resurgence this year is quarterback Nick Mullens, a former C-USA All-Freshman and 2015 C-USA Offensive Player of the Year. Marshall has plenty of experience against the quarterback, facing him each time they have played Southern Miss the past three years.
Marshall head coach Doc Holliday is well aware of the dangerous playmaker.
"He has been their start for four years, this will be his third year against us," Holliday said. "He does a good job of taking what the defense gives him."
Marshall's starting safety Kendall Gant has played Mullens three times now and knows there is a lot he does well.
"He gets the ball out his hands quick," Gant said. "He looks at all of his receivers and spreads the ball around so he isn't predictable."
Southern Miss is no one trick pony though. On the ground, running back Ito Smith already has 800 yards and seven touchdowns, while averaging 5.7 yards a run this year for the Golden Eagles.
Marshall linebacker Gary Thompson said the combination of Mullens and Smith in USM's backfield will make for a tough matchup.
"With those two in the backfield, it is hard to deal with," Thompson said. "Smith is a great runner, and Mullens was making great passes against LSU under pressure. It is important we get pressure on them and don't let them get in a groove. "
Holliday was also quick to acknowledge USM's talented running back.
"That running back is tremendous," Holliday said. "He is averaging well over 100 yards per game. He is about 190 pounds, but he can run with power and can also make you miss."
Holliday went on to describe how they don't just get Smith the ball by handoff.
"They like to get him out of the backfield and throw him the ball," Holliday said "If you look at his number of catches and yards after the catch, he does a tremendous job at that too."
A win will propel Marshall back into the Conference Championship game and give them a .500 conference record. A loss will put them at 1-3 and make what is already a tough road to a championship or bowl game even harder.
Marshall will meet Southern Miss on the field at 7 p.m. at M.M. Roberts Stadium this Saturday, Oct. 29.
Troy Alexander can be contacted at [email protected]