Thundering Herd look to avoid 5-peat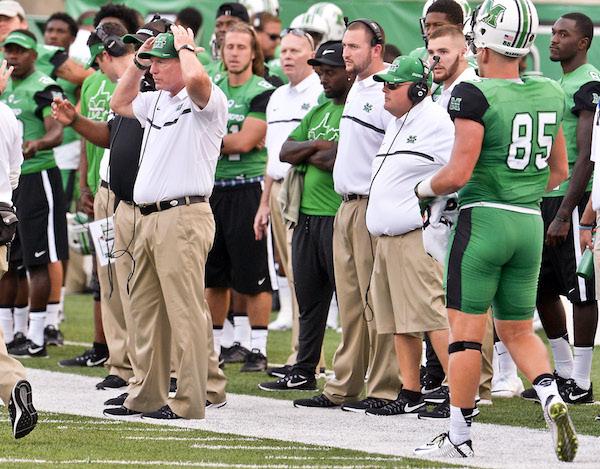 Coming off a loss to University of North Texas in their Conference USA opener last weekend, the Marshall University football team accomplished something they previously never had under head coach Doc Holliday – lose four games in a row.
Now, as the Herd inch closer to its homecoming showdown against Florida Atlantic University, they find themselves in uncharted waters, a potential five-game losing streaking staring them in the face.
But even as the losses mount, the team is keeping its composure, focusing only on getting better each day.
"We just have to go out each day and get better as a football team," head coach Doc Holliday said. "I wish I could put one finger on it…but that's the goal this week is to get better in all three phases."
One phase the Herd continue to look to improve in is the running game. Marshall has struggled to get the rushing attack going all season long. The Herd arguably had their worst rushing game as a team against the Mean green Saturday, only rushing for a combined 13 yards against the 110th-ranked rushing defense in all of the Football Bowl Subdivision. Despite the struggles, Holliday is not ready to give up on his two-back system yet.
"Last year at this time, Keion Davis and Hyleck Foster played the entire game against this football team and had 200 yards rushing," Holliday said. "So we have to get Keion, Hyleck and Pittman going."
Holliday will also be looking for answers at the quarterback position come Saturday. While sophomore quarterback Chase Litton is back and healthy, he has yet to hit his stride and play up to the level of his freshman season, where he led the Herd to a 9-2 record, including a St. Petersburg Bowl victory over University of Connecticut. Litton has thrown back-to-back pick-6's to end games against Pittsburgh and North Texas, and has thrown a pick-6 in each of his last three starts.
"Coach put us in a lot of situations last game to be successful," Litton said. "We didn't execute, we didn't capitalize, whether it be me and throws I have to make and just be more consistent."
While Litton was quick to take the blame, Holliday sang to a different tune during his weekly press conference.
"I don't think there is any question that we have to help [Chase]," Holliday said. "We have to do a better job of getting him into a position where he can be successful. He has done an awful lot of good things and we need to get back to doing that."
As Holliday emphasized improvement across all three phases, it was special teams that was seemingly the least talked about. Marshall entered Denton, Texas converting 50 percent of their field goal attempts. But two Amoreto Curraj misses against the Mean Green raised questions about the viability of the Herd's special teams unit.
"We actually played really well on special teams," tight end Ryan Yuracheck said. "We missed the two field goals so you kind of wipe that out, but across the four total phases of special teams I thought we played really well."
Even though Marshall's special teams and offensive units have had their fair share of struggles the past few week, the Herd will need to shift majority of their focus this week to the defensive side of the ball. FAU boasts a large and powerful rushing attack, spearheaded by junior running back Gregory Howell, that could pose problems for the front seven of Marshall.
"Gregory Howell is a big kid, he is a 200-plus pound back," Holliday said. "He breaks tackles and he is a physical runner. He has become much more now that he is a year older. They have a couple young kids behind him that they like to play. They both have ability on the perimeter."
Holliday was adamant he was displeased with the total effort put forth by the defensive against North Texas. While they had a relatively good game, Chuck Heater's defense did concede a number of big plays down the stretch, something Holliday attributed to his team's loss.
"We have to play more consistently," Holliday said. "If you look at the defense, we play well for x number of plays but there is about a 14 play stretch in last week's game where we gave up 200 yards so we have to become more consistent. It's hard to put your finger on one thing, but you have to get off the field on third down. We have been really good at that for the last three years. We have been one of the top teams in America of getting off the field on third down."
With as much noise the loss to the Mean Green generated on social media, the players are cognizant of the frustration that builds each week. But, Holliday has them locked in and focused for the task at hand – beat their first FBS team this season.
"That's the key, we just need one win," Yurachek said. "We thought that was going to be this past Saturday, but the chips didn't fall our way. We just need one win, need to get that confidence back under everybody."
Marshall will not only welcome a conference foe into town, but also numerous alumni and former players who will be on hand for this season's homecoming festivities. The game kicks off Saturday at 7 pm.
Jacob Griffith can be contacted at [email protected]
Leave a Comment
Your donation will help continue the work of independent student journalism at Marshall University. If you benefit from The Parthenon's free content, please consider making a donation.