Lewis Black delivers laughs at Joan C. Edwards Playhouse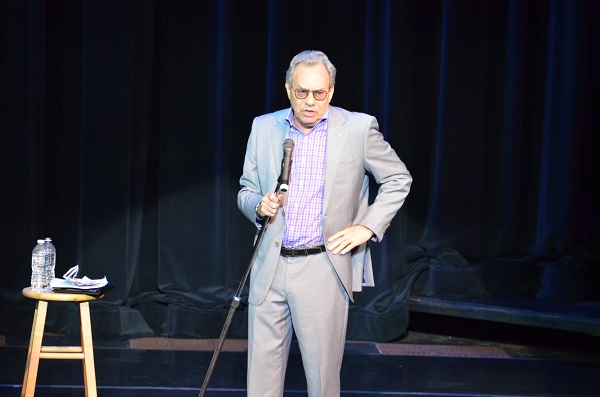 Comedian Lewis Black performed at the Joan C. Edwards playhouse Saturday, featuring his new standup routine "The Emperor's New Clothes: The Naked Truth Tour". The event was in coordination with the Marshall Artists Series and was the second show of the season.
John Bowman was the opening act for the show. Bowman, long-time friend and comedic partner of Black, started his set with a joke about the city of Huntington.
Bowman continued his set with jokes ranging from the state of Alabama and their love for football to Donald Trump and the teachings of Gwyneth Paltrow. He ended with a short roast of Lewis Black. In the case of Lewis Black and Donald Trump, Bowman did impressions of both figures.
After a brief intermission, Black took center stage and entertained the crowd for well over an hour and a half.
Although Black had a great routine, he also showed his adaptive skills gained through decades of performing standup comedy. A cell phone went off in the middle of his set with a ringtone that sounded like a ringer from the 1980s. Black simply chuckled and mocked the ringtone, asking if there was an ice cream truck nearby before resuming his routine.
Black angrily ranted about a mix of topics, starting with Ben Carson, how society is living at the intersection of reality and satire, the NRA, dating women with mental illness, congress and the quality of life in Copenhagen, Denmark. The routine ended with comparisons of voting for either Hillary Clinton or Donald Trump.
Black then did a segment available for broadcast to the internet and answered questions submitted online via his website in a section called 'suggest a rant'.
Although the night was all about the comedy, the staff surrounding the tour seemed to enjoy the city of Huntington as much as the city enjoyed hosting the comedian.
"It looked like a beautiful fall day," Leonard Hughes, who works with merchandising for the tour, said. "It looked like a pretty town, and the university looked like one I would like to teach in."
Hughes, a friend of Black's since the 1960s, said he has been working on the tour for close to ten years. He was formerly a journalist for the Washington Post and an English professor. His responsibilities include filling out travel logs and tracking profits for the show.
The next event for the Marshall Artists Series is scheduled for Oct. 21 with a concert by Gavin DeGraw and Andy Grammar. The event will be at the Keith Albee Performing Arts Center.
Joseph Ashley can be reached at [email protected] and on Twitter @Joseph_AshleyMU.