Marshall football begins Conference USA play Saturday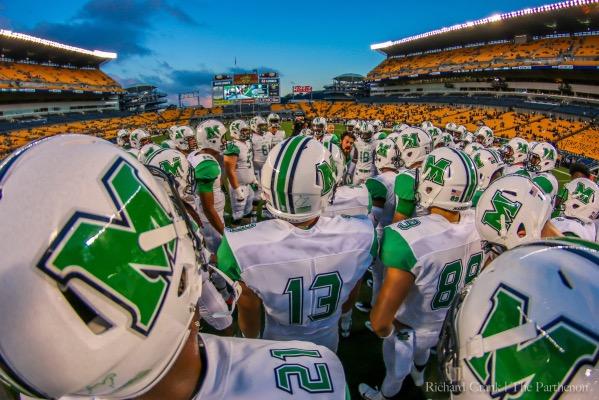 Fresh off their third-consecutive loss, Marshall University's football team now turns its attention to the Herd's first Conference-USA opponent of the season, the University of North Texas Mean Green.
The Herd and the Mean Green have only met two previous times, both games being played in the friendly confines of Huntington, West Virginia and both resulting in Thundering Herd victories. But, these are not your father's Mean Green. Despite a 2-3 record, North Texas is improved, most notably at the quarterback position, something head coach Doc Holliday is taking notice of.
"North Texas is much different than they were a year ago," Holliday said. "They are playing a freshman quarterback by the name of [Mason] Fine who, if you watch him play, can beat you with his feet as well as his arm. He went in against SMU for the last series and has been their starter ever since."
Fine presents a unique challenge to the Thundering Herd's floundering defense. Much like Louisville quarterback Lamar Jackson, Fine is a dual-threat quarterback, showing the ability to run with the ball, as well as throw with accuracy. And while defensive coordinator Chuck Heater's defense has struggled early on, they showed flashes of greatness against the aforementioned Jackson, shutting down the Heisman Trophy candidate for nearly two quarters. In the eyes of some, that experience could go a long way towards stopping a similar style of QB.
"Lamar Jackson, he can beat you with his feet or with his arm," Marshall defensive back Rodney Allen said. "It's tough. We don't know that he can beat us with his legs, but we know he can beat us with his arm."
Despite falling short against fellow C-USA foe Middle Tennessee, Fine completed 33 passes for 303 yards and a touchdown. Fine has also thrown only one interception through five games, showing he knows how to take care of the football.
"If you turn the film on and watch him, he does not play like he's 5'11, 170 pounds," Holliday said. "He takes shots … You wouldn't think a guy that size would bring that to the table, but he does, and he can throw the ball well."
The Herd have also settled their own quarterback issues. After incumbent Chase Litton suffered an undisclosed injury against Akron and subsequently missed the game against Louisville, Litton returned last week against Pittsburgh. While it took him a half to get readjusted, the sophomore barely even skipped a beat.
"For me, he looked a lot more comfortable in the second half than he did in the first," Holliday said. "He missed some throws in the first half that he didn't miss in the second. Not only did he miss the game, he missed an entire week of practice. I don't think there is any question he looked a little rusty in the first half. He looked much better in the second."
The running game will be of high importance as the team heads south to Denton for the first time. The Herd have struggled to get off the schneid so far in terms of the ground game, but have no plans on giving up completely on the running game just yet.
"We always have to try and run the football," Holliday said. "You don't want to be one dimensional, but our offense tries to establish the run and when we were able to do that against Pitt … Anytime you can run the football, you are going to slow that defensive front down to where you don't quite get the pressure on the quarterback with play-action passes. I thought that helped us in the second half against Pitt."
In an effort to reverse their fortunes, Holliday moved running back Tony Pittman to the starting role last week against the Panthers. Anthony Anderson also saw increased action, while Keion Davis arguably had his best game all season long, rushing for 68 yards with one score. The improvement was just enough to catch the eye of Holliday.
"I don't think there is any doubt that Anthony and Keion both ran the ball extremely well," Holliday said. "We need that to continue. Coming out of that game we felt that both Keion and Anthony took a step and that needs to continue to happen."
The Herd will have to ride Litton, as well as Anderson and Davis, if they have any hopes of snapping their three-game losing streak, the team's first since Holliday's first season at the helm back in 2010.
The Herd's fifth game of the season kicks-off at 7 p.m. ET. The game can be seen on the American Sports Network.
Jacob Griffith can be contacted at [email protected]
Leave a Comment