Thundering Herd falls to Akron Zips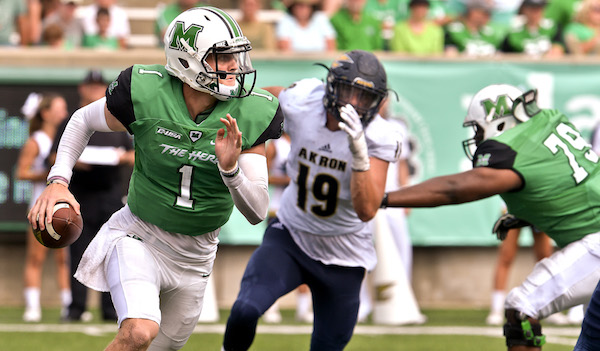 A week after their 62-0 victory against Morgan State, Marshall fell against the Akron Zips.
The Herd gave up a quick touchdown from Akron quarterback Thomas Woodson to Michael Traylor-Bennet for eight yards, after moving down the field quickly with passes of 43 and 25 yards. The offense also looked stagnate on its first drive, letting Chase Litton be pressured too easily by Akron's defensive line, resulting in a quick three and out.
Akron looked to be headed for a second scoring drive when wide receiver Jerome Lane was hit by Marshall cornerback Rodney Allen, resulting in a fumble, which was recovered by safety Kendall Gant. The offense rewarded their defense with a nine play 75-yard drive that was capped off with Litton throwing a three-yard pass to wide receiver Michael Clark. With the momentum on their side, Marshall's defense forced a three and out and then blocked the punt that followed. Marshall's Omare Cobb was responsible for the block and Josh Knight got the recovery.
Marshall capitalized on the blocked punt with another passing touchdown, this one from Litton to wide receiver Deon-Tay McManus from 18 yards out. Marshall's defense forced another three and out when Gary Thompson and Chase Hancock sacked Woodson on third down. Marshall's offense once again took advantage of the good field position with a 59-yard drive that ended with Litton throwing his third touchdown of the quarter to Josh Knight on a 21-yard throw.
The first quarter came to an end with Marshall in good position up 21-7. Marshall's first drive of the second quarter proved to be a turning point in the game. The Zips blitzed on first down and Litton didn't see Akron's Deonte Moore come in the pocket unblocked. Moore laid a crushing blow on Litton, knocking the ball loose, which teammate Daumantas Venckus returned 35 yards for a touchdown. Akron tied the game up with a 35-yard pass from Woodson to JoJo Natson four minutes later.
The Herd tried to respond, but three incomplete passes in a row and blown blocking assignments on special teams resulted in a blocked punt that was returned for a 30-yard touchdown and gave Akron back the lead. Akron scored two more times before halftime, once on a 30-yard pass to Kwadarrius Smith, and again as the clock expired on a one-yard run by Tra'von Chapman. The Herd went into halftime down 41-21.
Marshall tried to slow the pace down and run the ball in the third quarter, which saw their first drive result in running back Keion Davis running the ball into the end zone from eight yards out. Akron's offense answered with a 27-yard touchdown pass, but a Marshall field goal with two minutes left in the quarter put Marshall within striking distance, down 17 entering the fourth.
The deficit proved too much to overcome though, with Akron scoring two more offensive touchdowns and the game ending on a 31-yard interception return by Akron's Demarcus Lloyd. The final score was Akron 65 and Marshall 38.
Marshall gave up the most points at home in school history, and was flagged a school record 17 times for 180 yards. Running back Hyleck Foster was the Herd's rushing leader for the day with 77 yards. Josh Knight led the team in receptions, yards and touchdowns, with seven catches for 118 yards and two touchdowns.
Marshall outgained the Zips offense 560 yards to 524, but Marshall's four turnovers, which resulted in 28 points for Akron, proved to be their downfall.
Head Coach Doc Holliday gave credit to the whole Akron team for the victory,
"They were obviously the better team today. We just couldn't overcome the adversity or capitalize on the shots that we had," Holliday said. "We tried to get our guys help on the outside, but the defense was disappointing today. The most disappointing thing was the amount of turnovers and penalties that we had. We didn't follow the plan to win."
Holliday said it is only one game and, although there is disappointment, the team needs to get ready for Louisville.
"We don't have time to lick our wounds," Holliday said. "Louisville is ranked number 1 or 2 in the nation now, and we expect a great challenge."
Troy Alexander can be contacted at [email protected]