Incantations Of Daniel Johnston review and playlist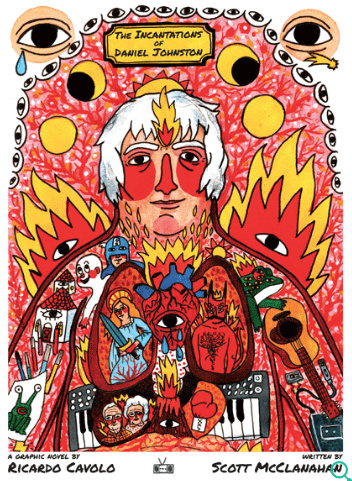 Incantations Of Daniel Johnston cover
"Sometimes it's heaven and sometimes it's hell. And sometimes you don't even know," that's how Scott McClanahan defines the bipolar disorder of his subject matter in the text of his graphic novel The Incantations of Daniel Johnston. The definition is also an apropos summary of the book itself.
It's not hell because of anything McClanahan, or the artist Ricardo Cavolo did, but because of the subject matter being the cult singer-songwriter Daniel Johnston who grew up in New Cumberland, West Virginia, who has dealt with bi-popular disorder and schizophrenia throughout the decades.
There's a quote from an old western, "When the legend becomes fact, print the legend." It's a quote that resonates with Johnston's life considering how mythologized his life has become. McClanahan combats this by being blunt and straight-forward regarding Johnston's illnesses, the often haunting text finely matching the equally haunting outsider art illustrations by Cavolo.
The graphic novel is heaven when Daniel's life is going well, like when he begins to make things, and discovers "There were songs and movies and motherfucking comics. They were all saying: I understand you. You're not alone."
It's hell when Daniel scares a woman into jumping out of a second-story window after getting off a bus prematurely after having being told by Sonic Youth he was no longer welcome by them in New York City.
As for the "sometimes you don't even know," portions of the book, perhaps only time will tell. McClanahan begins by warning readers about the devils inside of the book, and ends stating, "this book is damned and now you are too," a hex, or incantation upon readers, so maybe it's hell. But Daniel was supposedly cursed, and today he's doing better than ever. Maybe the real curse is the reader ends up listening to Songs of Pain, or Yip Jump Music a few more times, in that case it'd be heaven. Time is the judge either way.
Even without hearing a note of Johnston's music, The Incantations of Daniel Johnston captivates readers however if one were to read the book and decide to dive deep into Daniel's large body of work, this playlist is a good place to start and includes songs from throughout his career, ranging from low fidelity songs recorded on 4-track recorders, to professional quality studio recordings.
"True Love Will Find You In The End." A 1985 recording of one of Daniel's most beloved songs, a hopeful low-quality rendering of someone giving reassurance that happy endings are out there waiting.
"True Love Will Find You In The End." Rather than the low-fi recording of the version above, the song is done with more professional equipment. Some artists lose something when they make the transition from being a lo-fi artist. Daniel didn't. In some cases it made the song better.
"Wild West Virginia." "God is an artist/ And he painted a pretty picture/ And he called it West Virginia with those rollin' hills," is a lyric that would make this song worthy of at least being in the discussion for state song if it were not for the song also stating, "Crooked politicians, crater bum roads/But oh I love it so." Though it's one of two Johnston songs to namedrop West Virginia, his music is rooted in the isolation and loneliness one can have growing up here.
"The Story of An Artist." An autobiographical song about an artist trying to chase their dream while having to deal with less-than-supportive parents. It's hard to think, "The best things in life are truly free/Singing birds and laughing bees," when someone's telling you, "We don't really like what you do/We don't think anyone ever will."
"Devil Town." Nothing but Daniel's eerily echoing voice ringing. Though it's ominous feeling still works during the day, it is best listened to during the nighttime, surrounded by darkness.
"Life in Vain." When The Incantations of Daniel Johnston covers this period in his life it says, "the album was called FUN and it was a failure. The mythology of Daniel Johnston said it was a bad album and wasn't fun, but is this true? Have you heard it?" Fun is different than the myth of the Daniel Johnston sound but it isn't a lesser album. It was his first of all studio recordings. "Life in Vain," stands out as one of the best in Johnston's catalog and shows what Johnston can do with expanded instrumentation. It sounds happy, yet it's devastatingly sad.
"Rock and Roll/EGA." Early in the book McClanahan describes Daniel finding people who make art and it changing his life, the difference being day-and-night. That's what this song is about. Crushingly sad verses that describe his isolation being saved by music with an acoustic strum in the background, the reoccurring chorus of "Oh that rock and roll/it saved my soul/that rock and roll," with a full band behind it.
"I Live My Broken Dreams." While never appearing on an album, "I Live My Broken Dreams," was one of several he performed on MTV's The Cutting Edge in 1985 with a out-of-tune guitar that creates a haunting sound with a captivated audience. "My hopes lay shattered like a mirror on the floor/I see myself and I look really scattered/But I live my broken dreams.
"American Dream," The newest song on this playlist, taken from 2013's Space Ducks: Soundtrack, the song shows Daniel becoming more comfortable with age, a chorus of "And now I know I finally found the American Dream," maybe true love hasn't found him but he's found his happiness.
"Grievances," The first song off of Daniel's first album Songs of Pain. It's a thesis for his entire discography with themes that return time-and-time again. Sad lyrics with joyous piano, tonal shifts mid-song, and references to an unreturned love.
Leave a Comment
Your donation will help continue the work of independent student journalism at Marshall University. If you benefit from The Parthenon's free content, please consider making a donation.