'The Three Sisters' brings drama to Playhouse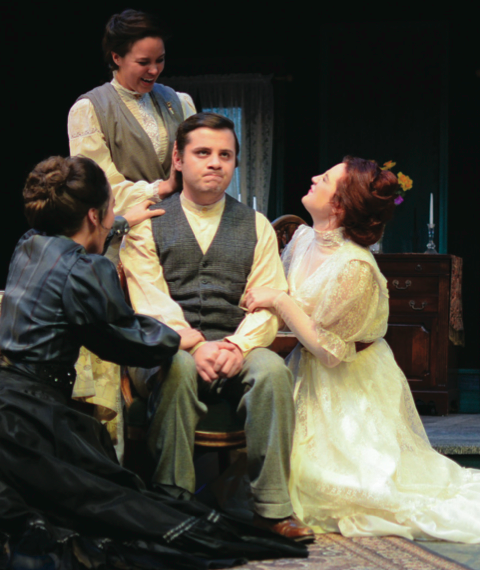 full house. Lenny Banovez, director, guided Marshall theater students through the tough production writ-ten by Anton Chekhov.
Banovez said he was extremely pleased with the final production put on by the students of Marshall's theatre program. Banovez fulfilled his vision of keeping true to the original playwright, but putting his own modern twist on the production.
"I think it went great, I think they did great," Banovez said. "The final product is something that is funny and depressing and as fast paced as Chekhov could be without losing too much."
Banovez has to return to his theater group in New York as it starts its production of "A Christmas Carol." Banovez said he will miss the student actors who put so much into their work, and he is disappointed he won't get to watch them as they grow through each showing of the play.
"I'm going to miss the actors," Banovez said. "They are like my buddies now. I'm going to miss them a lot. They've come a long way since the beginning. I'm going to miss seeing how it ends as it grows."
Tyler Smith played Kulygin, a schoolteacher and Masha's husband. His script was full of Latin and Russian phrases and pronunciations that had to be executed with perfection. In order to achieve this perfection, he sought out help from Marshall professors.
"At the beginning of our rehearsal process we brought in a wonderful Marshall faculty member," Smith said. "Dr. [Victor] Fet came in and helped us with all of our Russian pronunciations and I person-ally with all my Latin went to one of my friends in the Classics department and they helped me go through
it all."
Cheyanne DeBarros played the oldest sister Olga. Debarros said she felt very strong in her perfor-mance, but exhausted after finishing the show for the many responsibilities of her character. She said she is excited about growing stronger in her character
throughout the rest of the performances.
"There are always things you can do to better prepare yourself for the next show emotionally, mentally, even physically," DeBarros said. "Some of the girls have really long trains and have to learn how to work with them."
Erika Toderic played the youngest of the three sis-ters, Masha.
"I mean, I'll be honest, in live theater things that get thrown at you, there are like a million things that happen back stage, like costumes and props, and you have to roll with the punches, but I feel good. I feel confident and again hearing Lenny say we did a good job was 'yes we did it,'" Toderic said. "It's cool because now we get to grow like being present in the moment and listening instead of worrying about my next line, just being in the moment."
The production of "The Three Sisters" continues Thursday at 7:30 in the Joan C. Booth Experimental Theatre.
Shalee Rogney can be contacted at [email protected]
marshall.edu