Taylor Swift uses acceptance speech as an opportunity to motivate young women
More stories from Editorial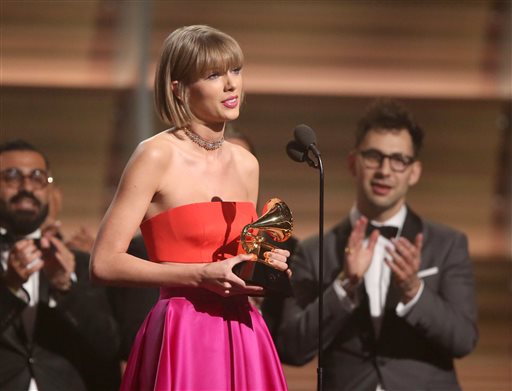 After an eventful year following the release of the spunky pop album "1989," Taylor Swift added another Album of the Year title to her shelf during the 2016 Grammy Awards.
Swift took the opportunity during her acceptance speech to thank her supporters and address sexism in the Grammy industry. Swift concluded with a personal jab at rapper Kanye West, whose recently released song "Famous" states that he would "have sex" with Swift, saying he "made that bitch famous."
West, the radical Twitter ranter and clothing designer, has a history of stealing Swift's thunder. With the infamous interruption of Swift's VMA victory for "You Belong With Me" in 2009, West has proven he has no shame in embarrassing himself instead of others.
After a year, West apologized to Swift, but he soon backtracked the apology saying his disruption was validated as an act "selflessness."
#What?
Fast forward to 2015. West graciously received his Video Vanguard Award during the MTV Video Music Awards—from Swift. West then proceeded to ramble about his presidency, but there were no signs of hostility.
After years of petty banter between album releases and endless Twitter rants from West, the waters seemed calm with the pair. That is, until West spits an awkwardly vulgar verse about Swift  which makes most cringe on behalf of West's wife Kim Kardashian-West. 
Swift began her Grammy acceptance speech by thanking her co-executive producer Max Martin, noting the importance of her victory as first female to win the "Album of the Year" title twice for the 2010 album "Fearless" and the 2014 album "1989."
Swift then took the chance to encourage females to be persistent in their voyages to success regardless of the flack received by jealous peers.
"I want to say to all the young women out there that there are going to be people along the way who are going to try to undercut your success or take credit for your accomplishments and your fame," Swift said. "But if you just focus on the work and you don't let those people sidetrack you, someday when you get where you're going, you're going to look around and see that it was you and the people that love you that got you there. That will be the greatest feeling in the world."
For now, West's Twitter is back to disconnected ramblings – completely silent about the incident. Perhaps he should have considered the consequences before he dishonored the Princess of Pop.
Pay no attention to him, Taylor. Keep making history.
Leave a Comment
Your donation will help continue the work of independent student journalism at Marshall University. If you benefit from The Parthenon's free content, please consider making a donation.