Editorial: The power of protest displayed first hand in Standing Rock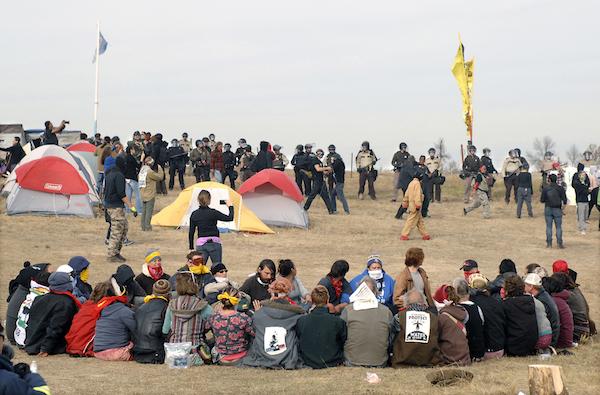 The Dakota Access Pipeline has been delayed by the Army Corps of Engineers after President Obama and his administration made the decision not to allow Energy Transfer Partners, L.P. to construct the potentially faulty pipeline over a water source that the Standing Rock Sioux depend on for all their needs.
In response, representatives from Energy Transfer Partners issued the following statement: "The White House's directive today to the Corps for further delay is just the latest in a series of overt and transparent political actions by an administration which has abandoned the rule of law in favor of currying favor with a narrow and extreme political constituency."
The above statement immediately shows everyone where large corporations' loyalty has always been — money. The pockets of the corporate executives are far from dry, but there is an unquenchable thirst that is ever present in these execs, regardless of the company.
Standing Rock is probably one of the largest success stories in recent protest history; albeit the Occupy Wall Street protests were huge in numbers, there wasn't a drastic change in American dependence on Wall Street money, or a shift in big wigs' morals.
There is no doubt that the men and women camping out in solidarity had a huge effect on the Obama administration's choice. Recently, up to 2,000 United States veterans joined with protestors young and old in North Dakota, in a move that, whether intentional or not, immediately shook up the portrayal of the protestors; instead of lazy, young liberals, squatting on Native American land, the viewpoint very much aligned with a melting pot. These protests weren't limited to just anyone; people all across the United States realized the importance of not only keeping federally promised lands as untouched as possible, but of keeping our water sources as clean as we possibly can, even though most U.S. water sources have been the victims of dumping or pollution.
The pipeline might have been rerouted, but it is not canceled. In fact, it's almost finished. Some Natives have likened the pipeline to a black snake, lurking through the tall grass, waiting for its next prey. It is time Americans cut that metaphorical grass, and tread over the snake, regardless of the venom it may possess; bullies aren't welcome here, and the Standing Rock protests, and ones before it, prove that again and again.
Leave a Comment
Your donation will help continue the work of independent student journalism at Marshall University. If you benefit from The Parthenon's free content, please consider making a donation.