Local singer follows dreams to the big times
More stories from Kalyn Bordman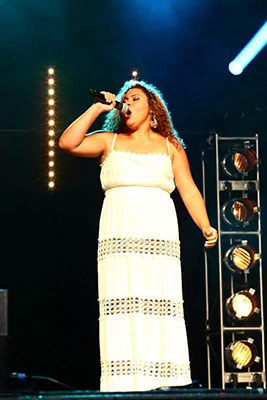 The region is full of local artists and Spring Valley High School student, Kelsey Seibert, displayed her talent at the Barboursville Fall Festival Pageant this past Saturday.
Seibert showed off her skills by singing four songs throughout the evening.
Seibert is no stranger to the stage. Seibert performs locally and even tried her luck on the television show, The Voice.
Seibert said realized she could sing when she was 8 years old and from that point on, began performing locally.
"I started singing at church and then I performed at my school talent show," Seibert said.
Seibert was born in Nashville, Tennessee and was adopted by her parents who then raised her around Huntington. Seibert is a big advocate of adoption and said she was blessed to have her family.
Seibert is a member of the National Beta Club at her school and returned to Nashville to sing at the Opry Land Hotel for the NBC competition where she placed 3rd. Seibert sang "If I Ain't Got You" by Alicia Keys for the first round and made the top ten based off of her performance. On the next night, Seibert performed again, this time in front of thousands of people.
"
"I was so proud of her. It is very rare for her to sing and me not get chills.""
— Theresa Seibert
"I'm going to cherish that experience forever and to place 3rd at a national competition really makes me proud," Seibert said.
Theresa Seibert, Kelsey's mother, who had her own reaction to her daughter singing at a national competition, accompanied Seibert on the trip.
"I was so proud of her. It is very rare for her to sing and me not get chills," Theresa said.
Seibert auditioned for The Voice in Detroit, Michigan and described the experience as fun but very chaotic. Seibert said she stood in line with thousands of other people and felt amazed with the amount of talent around her.
"I went in a room with 10 other people and we sang for a recording artist. Unfortunately, I didn't make the cut, but I plan on going back next year to try again," Seibert said.
"There were so many people just trying to get noticed, but Kelsey said it was a fun experience and it showed her how versatile people are with their voices," Theresa said.
Seibert plans to become an Air Force pilot and then go on to have a career in dermatology. Theresa said she and Seibert's dad are very proud of her and they want her to do whatever makes her happy.
Kalyn Bordman can be contacted [email protected].