#WeekendWalkoff: Tourney Talk Pt.II
More stories from Shannon Stowers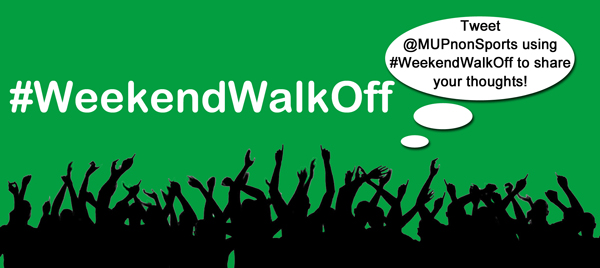 #WeekendWalkOff is a weekly column where sports and pop culture collide in a look at the one of that week's biggest sports topics.
Faster than Twista can recite the alphabet, March Madness has come and is now about to be gone.
Yes, it's Final Four weekend (and also Easter weekend). The University of Kentucky, University of Wisconsin, Michigan State University and Duke University are the last four teams remaining in a bracket that began with 68 teams. After this weekend (Monday, technically), only one team will be left.
When we left off last weekend, UK was giving the Mountaineers the business. In its Elite Eight matchup with the University of Notre Dame, the Wildcats won on free throws in the final seconds, keeping its historic, undefeated season alive.
The Badgers of Wisconsin will face UK in the Final Four. Many experts have claimed there are only a handful of teams that can beat Kentucky this season, and Wisconsin is one of them. Although it's hard to believe the Badgers will pull off the upset, the contrast in playing styles should be entertaining enough. 
On the other side of the bracket, MSU is back in the Final Four for the fourth time in 10 years. The Spartans were largely counted out this March leading everyone to question why they didn't pick head coach Tom Izzo's team, which usually shows up at tournament time, when it upset the University of Virginia and Oklahoma University in back-to-back weekends. Word through the grapevine is Izzo is feeling so disrespected, he's releasing his remix of a Dr. Dre classic, "Forgot About TOM."
The Spartans will be facing Duke, who took care of Gonzaga University with ease. Speaking of Duke, watching Blue Devils games is like watching the "Saw" series – you root for the underdog, knowing the whole time that Jigsaw (Duke) is going to win in the end.
This may be the more entertaining game of the two semifinals for one reason: MSU has been the cardiac kids of this tournament – each game has been decided by 10 points or less. It makes for great basketball, but I'm not sure that's what Michael Corleone meant when he said "keep your enemies closer" in "Godfather II." 
Keeping the Blue Devils close could spell disaster for Michigan State, and for the rest of America. Other than Kentucky, is there a more universally loathed team than Duke? If the Blue Devils are Jigsaw, then the Wildcats are the Cobra Kais from "Karate Kid." A Duke-Kentucky matchup would be good for college basketball, but at this point, fans are surely getting tired of the perennial powerhouses.
Regardless of what America thinks, though, should Kentucky and Duke both win it will be one of the highest, if not the highest rated championship game in recent history. Because despite how we feel about either team, they're good, they have large and passionate fan bases, they're rivals (thanks Christian Laettner) and if there's one team remaining that can stop Kentucky from reaching 40-0, it's Duke. 
Shannon Stowers can be contacted at [email protected]