#WeekendWalkOff: We're talkin' 'bout playoffs
More stories from Shannon Stowers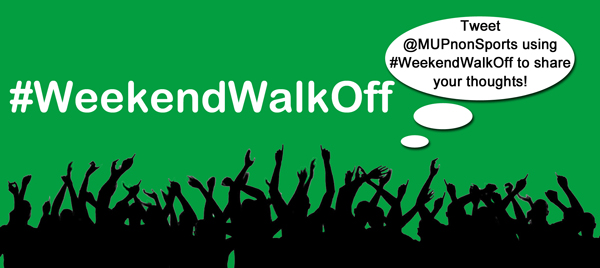 #WeekendWalkOff is a weekly column where sports and pop culture collide in a look at the one of that week's biggest sports topics.
The NHL and NBA playoffs are halfway through their first rounds this week, and somewhere Jim Mora doesn't want to talk about it.
That, however, is exactly what we're going to talk about in the final edition of #WeekendWalkoff. What a great way to go out too, what is better than playoffs in sports?
The NBA playoffs, as I previewed last week, feature a loaded western conference (what's new) and a weird eastern conference lineup that features a the Washington Wizards (when did they get good?) and a strong Toronto Raptors team that has managed to stay in the spotlight longer that its fellow Toronto-natives, Three Days Grace.
On the NHL side, the No.1 seeded Anaheim Ducks swept Winnipeg faster than it took Justin Bieber to ruin his career. In the east, Detroit is looking for an upset win that would rival an upset similar to when B-rabbit destroyed the Leaders of the Free World.
The moral of this story is that the playoffs are a special time of year. While there are times in the sports calendar like March Madness and Super Bowl Sunday, any time we can witness the pressure of a game seven, we see greatness.
The playoffs are to unheralded athletes what spinach is to Popeye. A bench player can go from nobody to local legend with one goal, buzzer-beater or touchdown.
Playoffs aren't just for the players, though. They also bring out the best in the fans. Look no further than Miami Heat fans during the Big Three era. Heat fans were no-shows during the regular season, but when it came to the playoffs, they were some of the best in the league, besides that one time.
Playoffs also provide Hollywood entertainment and storylines worthy of a Martin Scorsese film.
Will LeBron bring a championship to a city that has longest championship drought in professional sports? Will the Chicago Blackhawks win their second Stanley Cup in three years or will Montreal win its 25th cup?
These storylines, along with all of the others, will work themselves out over the next month, but for now let's enjoy it.
Shannon Stowers can be contacted at [email protected].
Leave a Comment
Your donation will help continue the work of independent student journalism at Marshall University. If you benefit from The Parthenon's free content, please consider making a donation.