Huntington rallies to kick off football season and new school year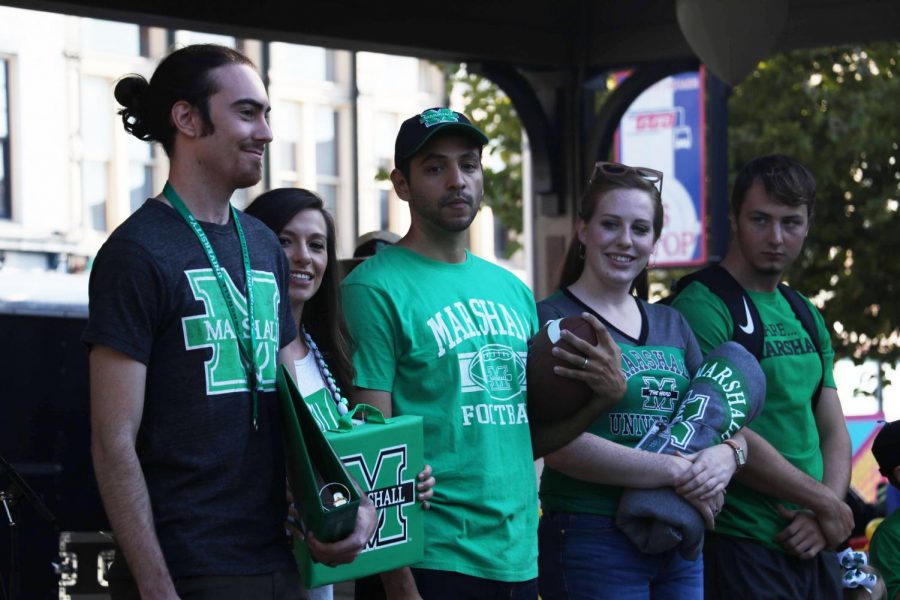 Vendors, fashion and all things Marshall University brought the Huntington community and the Marshall family together Thursday night to kick off the football season at the fifth annual Herd Rally.
The Herd Rally started in high fashion as Marshall apparel and accessories were modeled for the crowd.
"This is about the Marshall family coming together, celebrating back to school, the kick off of fall athletic events, it gives everybody a chance to come out with the fashion show and see some of the latest styles in Kelly green and Marshall gear so they can get dressed up and ready for the football season and back to school," Mallory Jarrell, coordinator of marketing and branding for Marshall Communications, said.
Jarrell said it was a team effort when getting this event planned. University Communications collaborated closely with the Campus Activity Board and the Athletics Department to make sure the event ran smoothly even after it was postponed.
Marshall's new softball coach, Megan Smith, along with the football, men's basketball and men's soccer team coaches all spoke to the crowd at Pullman Square about their upcoming seasons.  Marshall's band, the Marching Thunder, and cheerleaders entertained the crowd with several songs including Marshall's fight song.
"The reason why I love this event so much is because we include so many of the local businesses in the area, such as A True Soul which is a little boutique that just got started," Dakota Maddox, CAB advisor, said.
A True Soul Clothing and the Twisted Taco and The Sideline Grill food trucks were just a few of the vendors who participated in the Herd Rally. They were joined by the School of Pharmacy, CAB and Office of Admissions who all had tables set up around the square.
"We just really think that this is a really fun event for everyone to come out and be excited and be a part of the Marshall community whether you are a student, an alum or fan; it is just a perfect opportunity for everyone to come out and be together to celebrate the Herd," Jarrell said.
Marshall football begins the season with an away game against Miami (Ohio), September 1, at 3:30 p.m. Its first home game is against Eastern Kentucky September 8, with a 6:30 p.m. kickoff.
Sydney Shelton can be contacted at [email protected]