Small business offers worldly style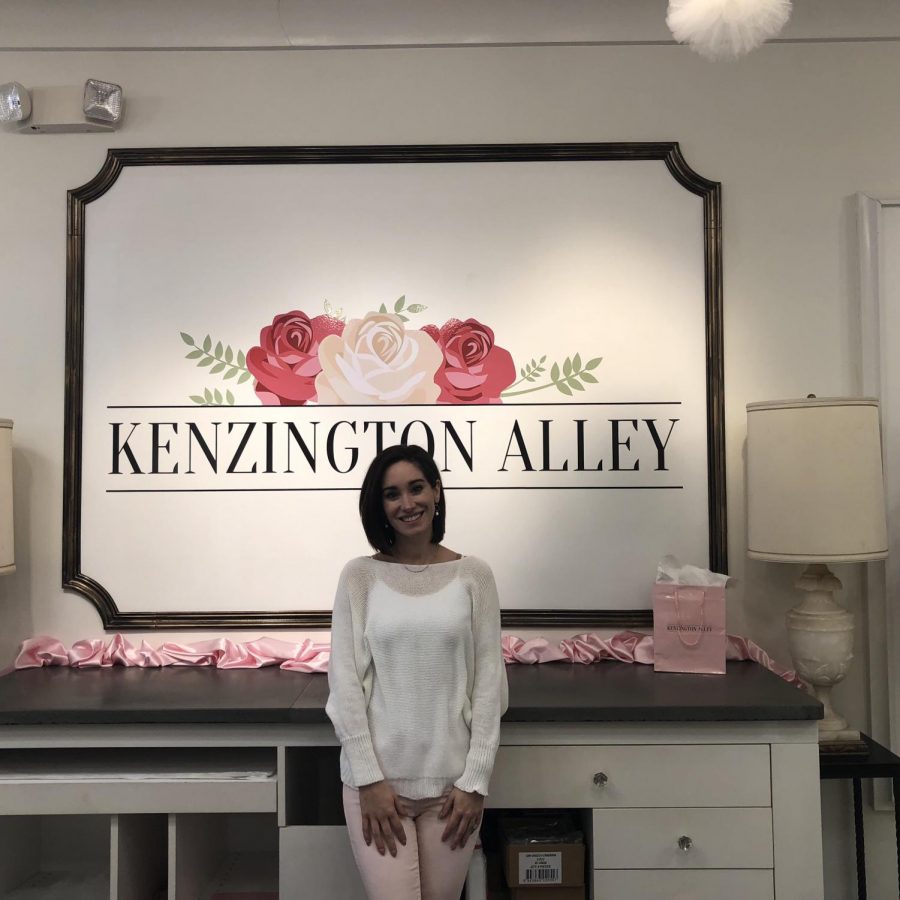 MacKenzie Morley is an up-and-coming business woman in the downtown Huntington area with her growing shop Kenzington Alley, located on Third Avenue, a store she says is a visual representation of who she is.
"This store is a true expression of who I am," Morley said. "The clothes I sell, the layout, everything shows who I am and the things I like."
Kenzington Alley comes from multiple sources. There is the well-known title, Kensington, that is attached to multiple locations in the U.K. Morley said she decided she liked the name because most of her product comes from that area.
She also said her husband is from the area. She decided to change the name from to 'Kensington' to 'Kenzington' with a 'z' so the title coordinates with the 'z' in her first name, Mackenzie. Morley mentioned that people often confuse her titles and believe her first name is actually Kenzington.
Though she is now the owner of a business, Morley did not originally go to school to open her own shop. Morley is a graduate of Western Kentucky University, with a degree in corporate and organization communication. She began working for Rolls-Royce shortly after graduation. She was in charge of teaching executives how to communicate properly in their business endeavors. Rolls-Royce is also where she met her husband.
Shortly after getting engaged, Morley's fiancé was informed he would be transferred to the United Kingdom. Morley chose to follow her spouse, and moved east. The two got married soon after moving.
Five years after moving, Morley found out she was pregnant, with twins. Shortly after finding out the news, her husband was informed he was getting transferred back to the United States, to a city that Morley did not know much about.
While in the United Kingdom, Morley said she learned about how business works in other countries, which was beneficial when she eventually decided she wanted to go back to work. She said she had no idea where to start, but she wanted to own her own clothing boutique.
When she got serious, Morley started ordering clothes and was selling them at various pop-up shows, including one with a sorority on campus. These pop-ups had racks of clothes for people to try on and purchase. She did this for months in order to find out if she opened a shop go see if the clothes would actually sell. According to Morley, she sold many items, and knew that she would have customers if she went through with opening a store.
Morley decided to use her shop to bring fashion styles from the United Kingdom to Huntington.
"Our goal is to bring clothes from all across the globe," Morley said. "I wanted to bring something different to the people here that they couldn't find anywhere else."
She only ever orders a few of something in order to help customers feel unique. She said this allows for people to be confident in the fact that they are one of only a few people to own a piece.
Morley said opening was both exciting and terrifying in the first few months. Her business officially opened on Oct. 31, so she quickly made sales to people shopping for Christmas gifts. Morley said she was left devastated in January after everyone had spent their money on the holidays.
Morley has now reached a particularly steady understanding of when people are more likely to visit her store. She works to stay productive even on her slow days by doing inventory, detailed cleaning and sending out promotions for her customers.
Morley was once a stay-at-home mom with her twin boys, and now she works six days a week. Morley said, luckily, her children have adapted well and actually love visiting their mother's store.
Morley said she also shops differently since opening her shop. Morley said small businesses are the biggest employer across the world, so she tries to support these organizations. Morley said that whenever her family travels, she tries to go to smaller businesses for souvenirs and gifts since she now understands all of the hard work put into creating the business.
Morley's personality has also been affected by the new store. She said she believes she has become a better person through her challenges with the business. Morley said her communication with people has improved as well as her ability to be "savvier with money." She also said she is more enthusiastic about small successes in her industry.
Morley has also worked with various students at Marshall to provide them with opportunities to learn about fashion and the business industry.
Makayla McMillen, a senior studying sports management and marketing, has worked for Kenzington Alley for roughly four months and said she has learned a lot from the experience.
"I'm getting great experience with learning to talk to people," McMillen said. "I'm learning the ins and outs of running a store, but I think I'm getting the most out of learning how to communicate well."
Morley said she has chosen students, because Marshall produces hard workers. She also highlighted that it is often difficult to find jobs in the business industry without experience, and she enjoys helping students find that experience while also learning from them.
"This is real world experience," Morley said. "I learn a lot from the girls I hire, and this is experience they aren't going to find anywhere else."
While Morley is currently completely focused on Kenzington Alley, she said other branches may appear in the future, if she wants that. Morley said she is always working toward the next step.
"I don't know what the future holds for Kenzington Alley or variations of it, but I know that I am always thinking about what's next, so we'll have to wait and see what happens," Morley said.
Sarah Ingram can be contacted at [email protected]
This story has been corrected to clear misconceptions about the start up of Morley's boutique and about her move from the United Kingdom back to the United States.