McElroys offer a humorous educational experience at Yeager symposium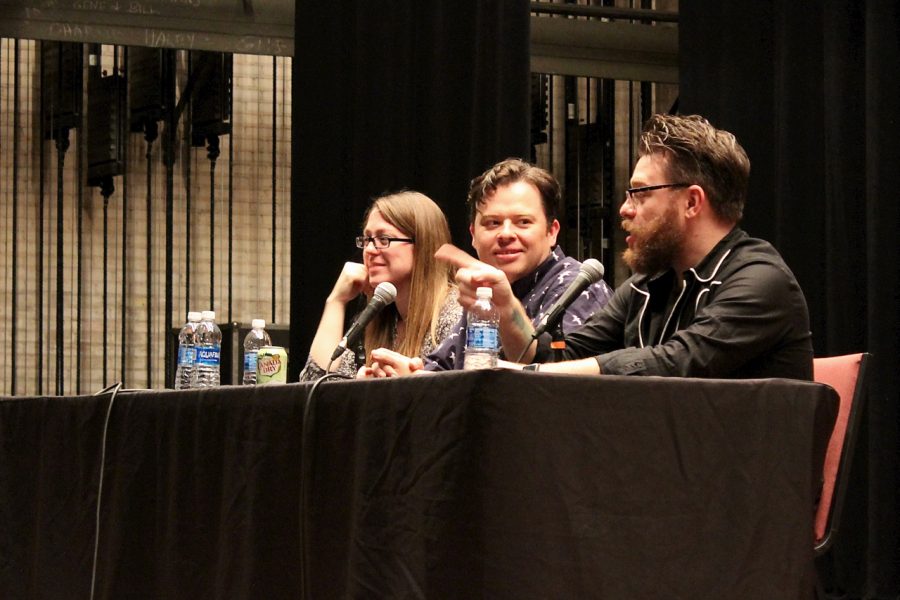 Members of the McElroy family brought a whole lot of laughs to Keith-Albee Performing Arts Center Thursday as they recorded two podcasts during the Society of Yeager Scholars' 30th anniversary symposium.
The symposium is an annual event hosted by the senior class of the Society of Yeager Scholars. This year, the seniors decided to stray away from their usual informative lecture by having the McElroys, natives of Huntington, perform and record two of their podcasts, "Schmanners" and "Sawbones," live for the audience.
"Schmanners," a podcast performed by Travis and Teresa McElroy, covers "extraordinary etiquette for ordinary occasions" through humor. Meanwhile, Sawbones consists of "a marital tour of misguided medicine" and a medical history discussion between Dr. Sydnee McElroy, a former Marshall Yeager Scholar, and Justin McElroy.
Cara Bailey, Society of Yeager Scholars coordinator, said the McElroys were a good choice for the symposium because they "bring a lot of good publicity to Huntington and present a good message about the community."
Bailey said offering the podcast instead of the usual lecture was something that has never been done before and a new, fun format that was also informative.
"I think anything that connects the town gown relationship that brings the students from campus to downtown is beneficial for the community," Bailey said. "But I think it's also nice for the students to meet people from Huntington or just people from outside the region. I think events like this introduce Marshall students to what's out there."
Brooke Estep, senior Yeager Scholar, initiated communication with the McElroys and, with the help of her senior counterparts, brought them to Huntington for Marshall students and local residents to experience live.
Estep said she hopes people in the audience take away a learning lesson from experiencing the podcasts by the McElroys and from their successes.
"You don't have to leave Huntington to do great things," Estep said. "No matter what you do or where you do it, you can influence change and put positivity into the world."
Danite Belay can be contacted at [email protected]