Gilbert addresses student concerns with campus free speech
Caroline Kimbro, Reporter
October 2, 2017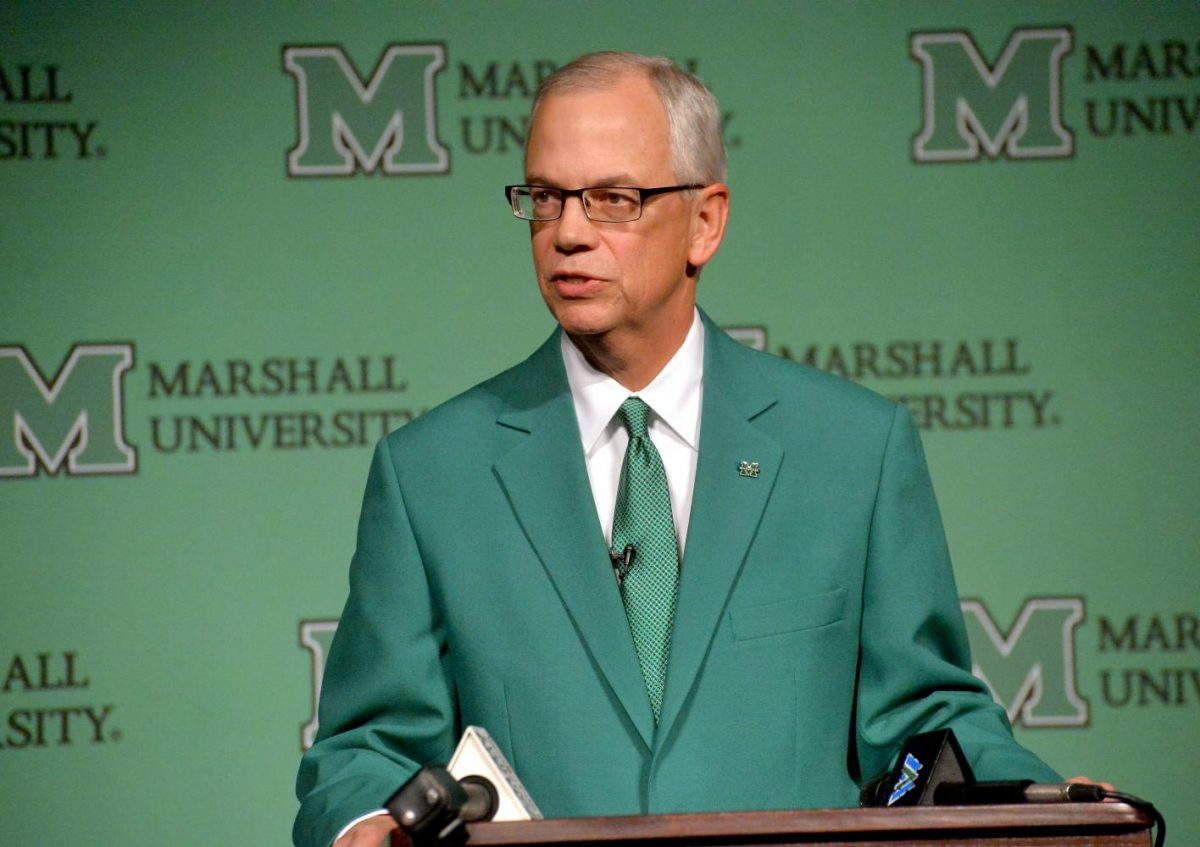 Last week, Marshall University students responded in various manners to the message of Zachary Humphrey and John McGlone, open-air preachers speaking on Marshall's campus. President Jerry Gilbert said he was proud of students' reaction to the controversial preachers and termed the scenario a "very challenging situation."
Gilbert said he wasn't affected by  Humphrey and Adkins' religious message, but did lose sleep when the preachers began singling out students. Gilbert said Marshall's students conducted themselves commendably under the circumstances and didn't cross any lines in their response to the preachers.
"I thought our students conducted themselves quite admirably, and I was proud of our students for not getting too violent or too provoked to the point where they might want to engage in a physical manner with the person," Gilbert said. "So, I was very proud of our students in light of how extreme he was."
Gilbert said he had a similar experience with an open-air preacher when he was a freshman at Mississippi State. He didn't engage with the preacher at the time, but the experience opened his eyes to different beliefs people hold and approaches they use to spread their message. Gilbert said it was a valuable learning experience for him.
"I feel like if a student came to a college campus and never got to see some extreme person like that on campus, they would have missed out on the college experience," Gilbert said. "Because to me, having experienced it myself, I kind of see that as part of the college experience – seeing an extreme position demonstrated on campus under the protection of the First Amendment and offending some people to some level."
Gilbert said the open-air preacher called to him as he walked on campus last week, but he chose to not engage with them.
"You know, there's always the option to walk away," Gilbert said. "There's always the opportunity to walk by and smile and not say anything and not be offended."
Gilbert said the First Amendment covers a wide spectrum of speech, particularly on a public university's campus. He said Marshall is an open campus, as it essentially belongs to the state of West Virginia. As such, Gilbert said the line between protected and unprotected speech is often fuzzy, and if a line is drawn, it's arbitrary at some level.
"The preacher was on the extreme," Gilbert said. "The preacher was pushing the First Amendment, he probably was on the edge and probably a little over the edge, but I think it was probably better not to try to remove him, from what I saw, than to risk violating the First Amendment. And that's the thing, it's not easy."
In response to students' complaints about the preacher, both Gilbert and Ginny Painter, senior vice president of communications, said a person cannot be expelled from campus simply because a majority doesn't like that person.
"(Students) want him to be sent away if he's making them feel uncomfortable, and that's not how it works," Painter said.
Gilbert said there could be a circumstance in which this type of speaker is expelled from campus, but his immediate response to student complaints would be to monitor the situation. He said the administration never received a formal complaint from any student last week, but he did send members of the Marshall University Police Department to check the situation after faculty members notified the administration.
"I think that maybe a good practice would be as soon as someone feels like this person or someone else has escalated the discourse to the point where it's getting offensive, they need to let administration know immediately so we can send police out and can warn them," Gilbert said. "And we can monitor it ourselves so we can make sure it's not extreme to the point where it has crossed that line."
Painter said the police did not hear the preachers single any student out, thus they did not take action other than warning the preachers. Gilbert said threatening or harassing students is grounds for an individual to be expelled from campus, but the university administration must be formally notified in order to take action. Gilbert said harassment most likely took place before the police were sent to monitor the situation last Tuesday, but the police did not witness such harassment and the administration received no formal complaint.
Caroline Kimbro can be contacted at [email protected]