Marshall football wins big over Bearcats, 38-21
Hang on for a minute...we're trying to find some more stories you might like.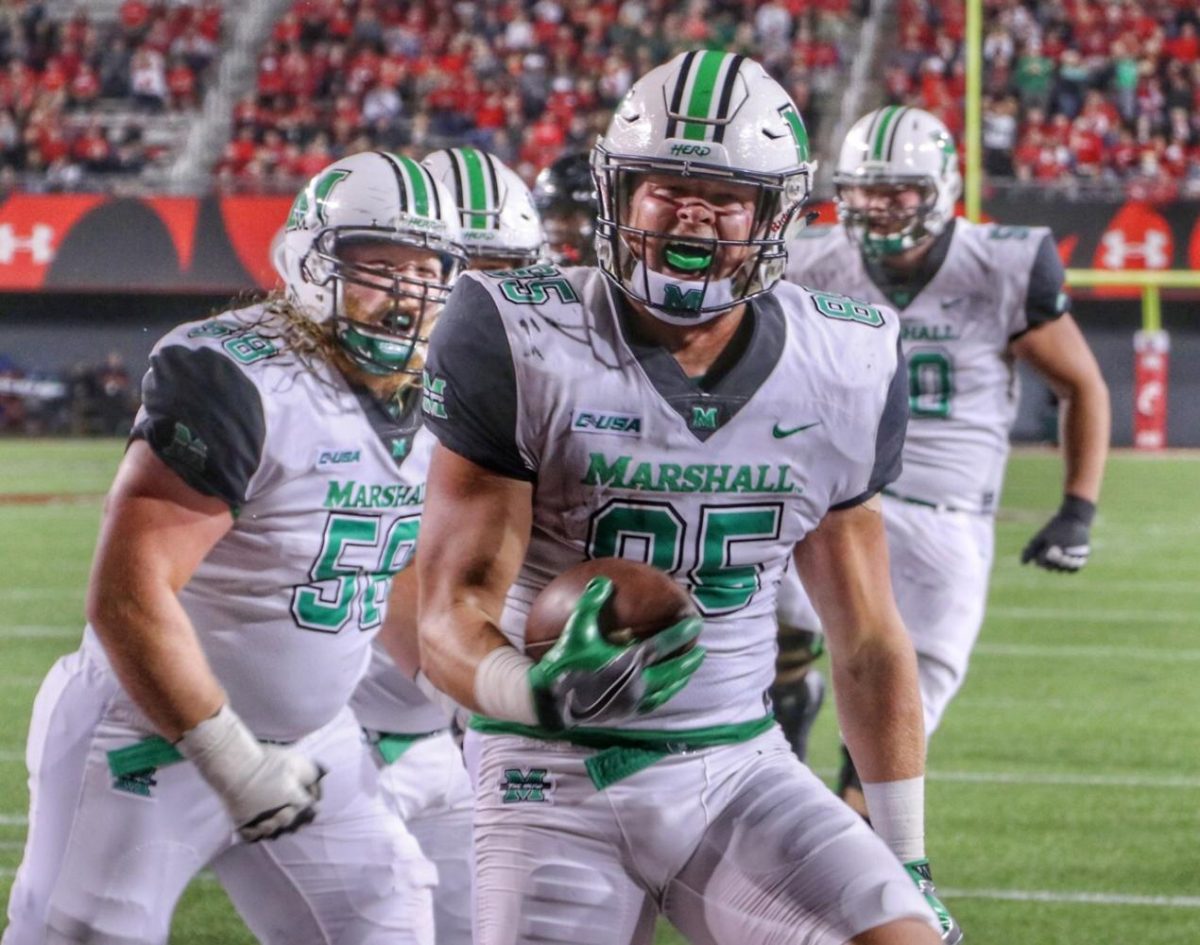 Richard Crank
Marshall football (3-1) reigned victorious over the Cincinnati Bearcats (2-3) Saturday night in the Queen City, 38-21, with Chase Litton and Ryan Yurachek connecting for three touchdowns at Nippert Stadium.
The Herd got off to a quick start in Cincinnati, both offensively and defensively. Tyler King fumbled on the second play of the game to give the Bearcats the early advantage. However, the Herd would not flinch, and Frankie Hernandez recovered a Hayden Moore fumble to give the Herd the ball back just two plays after King turned it over.
On the subsequent drive, Litton and the Thundering Herd offense would convert for a touchdown after Litton found an open Yurachek in the end zone.
With the touchdown, Litton continued his nation leading streak of 25 games in a row with a touchdown pass. Marshall took a 7-0 lead into the start of the second quarter.
After another three-and-out by Cincinnati, Litton and the Marshall offense got to work once again on a ten-play drive which culminated with a 27-yard Litton touchdown pass to Willie Johnson to take a 17-0 lead over the Bearcats. During the ensuing kickoff, Artis Johnson forced another Bearcat fumble, and Nazeeh Johnson recovered for the Herd.
Following the turnover, it took Marshall one play to reach the end zone and capture a 24-0 lead when Litton rifled a 15-yard pass to Yurachek for his second touchdown of the game and Litton's third touchdown of the half.
Moore finally got the Bearcats' offense rolling after he completed a 42-yard completion to Devin Gray which landed Cincinnati at the Marshall 16-yard line with 1:09 remaining in the second quarter. However, Bearcats kicker Josh Pasley missed a 26-yard field goal with 44 seconds remaining in the second quarter. Marshall took a 24-0 lead into the half. Litton's stat line at the half was 20 of 29, 202 yards and three touchdowns.
Late in the third quarter, a familiar combination restored the 24-point lead for the Herd after Litton and Yurachek hooked up for 31-yard touchdown pass, the third of the game between the pair. At the end of the third quarter, Marshall held a 31-7 lead over Cincinnati.
On Marshall's first drive of the fourth quarter, Keion Davis rushed for a total of 70-yards. Davis capped off the nine-play, 75-yard drive with a one-yard touchdown run that put Marshall up 38-14. When the dust settled, Marshall matched its total wins from last season with a 38-21 win at Nippert Stadium.
Litton and Yurachek connected on three touchdowns Saturday night in Cincinnati. Both gentlemen extended streaks of their own. Litton has now thrown a touchdown in 25 straight games. Yurachek now has a reception in each of his last 33 games.
"We just had so much chemistry going tonight," Litton said.
The Thundering Herd allowed just one first down in the first half on Saturday's contest and forced the Bearcats to fumble three times. Chase Hancock finished the game tied for the team lead in tackles with seven, of which were two solo.
"Just keep the pressure on them and don't stop," Hancock said. "Just keep going, we knew it was going to be fight. Doc emphasized that somebody was going to throw the first punch, why not us."
Marshall and the Bearcats ended up very close in terms of total yardage, Marshall with 366 and Cincinnati with 349.
"There was some short fields because of the turnovers and that type of thing, which was good," Holliday said. "I don't worry about stats, I worry about wins. I thought we were physical, and I thought we ran with the ball so that was important."
The Herd is now 3-1 which equals the season total from last year's team. This quick turnaround has not gone unnoticed by the players.
"It feels really good. Last year it was not all that great," Hancock said. "I thought we were really improving, and I think we, as the players, the coaches are starting to see that we can play with every team that is on our schedule."
Even though the team has shown improvement, Litton said he knows that the season has just begun if this team wants to make a charge for the conference USA championship.
"It's a confidence boost for everybody; we had three of these (wins) last year, we have three right now," Litton said. "That means something, but at the end of the day we are 0-0. We have to treat every game like a championship game if we want to go where we want to go. We know that teams are going to be ready to go. We know this conference is a good conference, but we have to be us. We have to be Marshall football and be ready to go."
Marshall football turns its attention to its next game Oct. 7 against the Charlotte 49ers. Kickoff is scheduled for 6 p.m. ET Saturday, Oct. 7.
Kyle Curley can be contacted at [email protected]