Gilbert aims to expand undergraduate research program
Caroline Kimbro, Reporter
September 18, 2017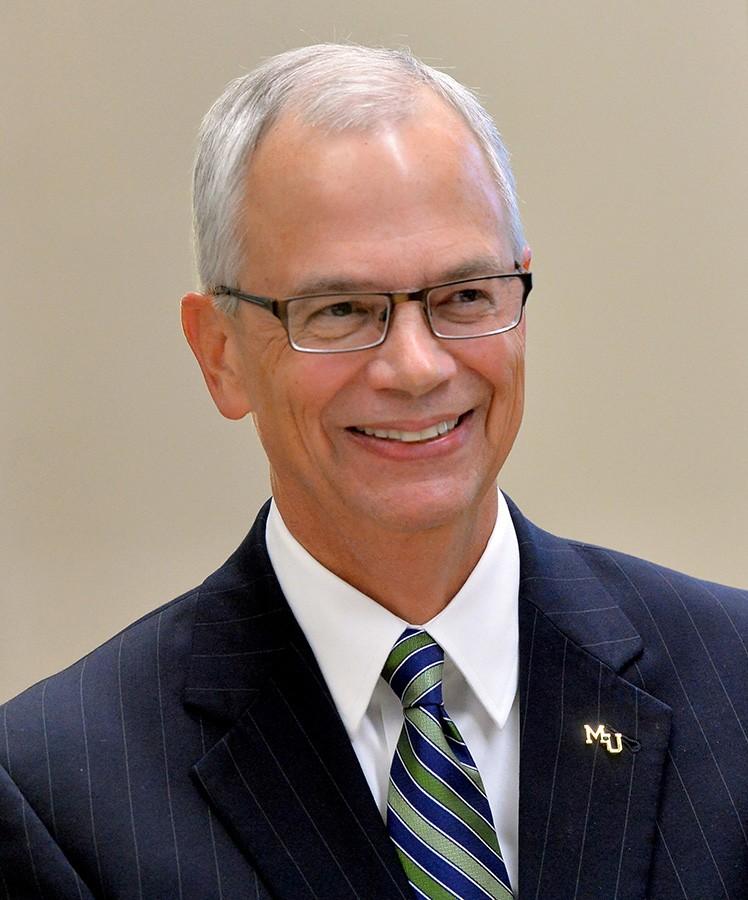 Marshall President Jerry Gilbert has set standards for the growth of Marshall University during his initial years as president, focusing partially on expanding Marshall's undergraduate research program.
Gilbert said support for further research at Marshall developed quickly last year.
"My goal in research probably was the one that was realized more easily and certainly exceeded my expectations the first year," Gilbert said. "We've done a lot of things to sort of rev up our research enterprise, and I think that's been very successful."
Gilbert said attracting funding through grants is an important aspect of expanding research endeavors. 
Gilbert said, "When I said the research was successful, last year it was really looking at the dollars, external dollars, that we bring in from research, and it was $23 million when I was here the first year, that is 2015-2016, and then this past year, 16-17, it's up to $28 million, and I expect that to rise some more this year because we're becoming better at getting grants."
Specifically, Gilbert said the undergraduate research program is a focal point and important element of overall research endeavors at Marshall.
"One of our goals for this year is to get students involved in undergraduate research and I'm a very strong proponent of undergraduate research," Gilbert said. "We've actually taken some money out of the budget – $166,000 – and set that aside and said 'we're going to devote that to undergraduates so that they can have that money to apply to their research projects.'"
Gilbert said he hopes to increase the prominence of undergraduate research in a range of fields and make funding accessible to undergraduate students.
Gilbert said, "John Maher, the vice president for research, has got a group working on some guidelines that students can apply for money to use to help in whatever their research is – whether it's in history or sociology or medicine or engineering. There would be dollars available to help students work with professors and do basic and applied research."
Kayleigh Nerhood, junior biology major, said after working in an on-campus research lab, she's highly supportive of Gilbert's effort to promote and fund undergraduate research.
"I think it's absolutely wonderful," Nerhood said. "I think it's really important for undergrads to get involved in research. It gives them a great foundation for whatever they decide to do with the rest of their lives, and it also is a great way to get practical experience with what they're learning. I've learned so much in my time there that I would never have learned in my classes, and I'm really grateful for that."
Nerhood works with Nadja Spitzer, an assistant professor of biological sciences at Marshall, to study neural stem cells from rats. Nerhood said her research under Spitzer's leadership has shaped plans for her future career.
"I realized that I do love doing research, and that I'm interested in pursuing a more research-oriented field, rather than being a physician," Nerhood said. "I've learned that science can be frustrating at times, but it's ultimately a great thing for the world. And when you finally get those results, nothing feels better."
Nerhood said while their research is funded by a grant from the National Science Foundation, Gilbert's emphasis on research funding at Marshall is important.
"We can always use extra funding because there's all sorts of projects you can do," Nerhood said.
Nerhood said research labs also establish a community of peers and mentors within individual fields of study.
"You get great connections with your lab professors and with other students," Nerhood said. "My friends in lab are truly my friends. They're great people and you know we study for classes together, so it's always nice to meet other people with similar interests. Dr. Spitzer is amazing, and it's really good practice for the future because you start to learn what all is involved, and you know for sure is this right for me or is this not."
Caroline Kimbro can be contacted at [email protected]