Marshall University's Social Work Department hosts suicide prevention forum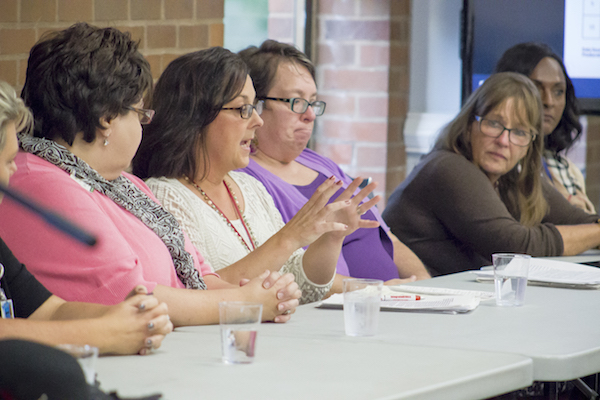 The Social Work Department at Marshall University hosted a suicide prevention forum addressing suicide awareness and how to handle it.
The forum, "Suicide Prevention in the Tri-state," took place at 6:30 p.m. Tuesday in the Shawkey Dining Room, located on the second floor of the Memorial Student Center.
The panelists at the forum were social workers at Marshall University and other facilities. The panelists were Nichole Bates, Amy Jeffers, Julie Brawn, Peggy Harman, Amy Jeffers, Amy Saunders, Hope Siler and Gary McDaniel.
McDaniel, assistant professor and director of field education, discussed the statistics of suicide rates.
"Campus suicide has been a problem in this country," McDaniel said.
McDaniel said in 2010, for the 15-24 year old age group, suicide was the third leading cause of death. By 2015, for the 15-24 year old age group, suicide became the second leading cause of death. According to McDaniel, there has been a debate on the numbers because "unintentional injury" is claimed as the first leading cause of death.
"There are awful suicides that get deemed accidentals deaths out of a desire to protect that person's family from that information, to protect their community or their reputation," McDaniel said. "There could be a larger number."
McDaniel said there should not be a stigma around discussing suicide.
"It is really important that we remember that it's okay to talk about it, we need to talk about it and we've got to talk about it," McDaniel said. 'We are all qualified to talk about it by presenting the fact that we care."
Paula Rymer, associate professor of social work and organizer of suicide prevention week, said she was excited about the outcome of the forum.
"I feel like the event was very well received, and I was really impressed with attendance and participation from the audience." Rymer said. "It's hard to get people that are just attending to actually make comments and I was really pleased with that."
Alison Baldridge can be contacted at [email protected].