Column: Game Day Advice for Freshmen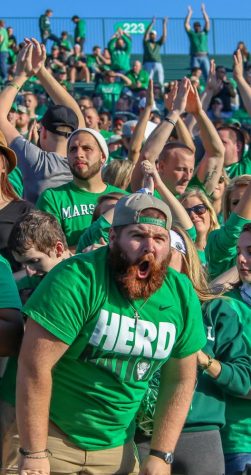 As I enter my senior year of college, I look back over the past three seasons of Marshall football.
I have seen a near perfect season, a C-USA Championship, a big win over Purdue at home, a Heisman winner play against the Herd and so much more.
While those moments are memorable, the best part of it all is waking up on gameday, grabbing a Tudors Biscuit with some friends and then heading to the dozens of tailgate spots all over Huntington.
My advice to a freshman on game day is simple: get out and enjoy all that Marshall game days have to offer and make a routine of it.
Since this weekend is the season opener, there will be plenty to do. The Thunder Walk, which takes place two hours before kickoff, is a fantastic opportunity for students to get out and see the team and show support.
The Thunder Walk will start on 18th Street and proceed through the center of campus all the way to the stadium. As the team walks, I encourage students to follow the team and make their way to the stadium lots. There, students will have countless opportunities to get involved in pregame events and activities.
From the events put on by Marshall organizations like Campus Activities Board or tailgates put on by Greek Life, there is always something to keep you entertained until kickoff.
Walking around outside the stadium can create some great game day memories. Everybody out tailgating is there to have fun, meet other fans and get ready for the Herd.
One of my favorite activities on game day when I was a freshman was seeing all the different ways people would tailgate. Some were simple with a Marshall tent and some burgers and hot dogs, and then some were massive and almost a little too over the top.
Some people play games, like cornhole, and some will do something else to draw a crowd. I think my favorite was a tent with karaoke and the mic was autotuned. That made for some interesting covers to "Thunderstruck" by AC/DC. (Get ready for that to become your new favorite song.)
Getting out early on game days and exploring the tailgate lots is the first step to a successful and fun game day. The next step is to get to the stadium early.
As a freshman, I sat front row of every game with a group of friends of mine and I must say it was one of the best decisions of my college career.
By getting to the stadium early, you get to meet other fans, get a quality spot and you get to see the teams warm up.
As the opposing team practices in front of you, get a little rowdy. Get in their heads.
When the Herd is in front of you, get loud, start a few chants, call out individual players and let them know you support them.
As a fan in the stands, and especially in the student section, you have a job to do. Be the iconic twelfth man that college football teams thrive for. Throw the opposing team off their game and pump your team up.
Marshall football has a rich history of traditions, and the fans and students are the most important part when it comes to continuing those traditions.
As a freshman, get out on gameday, find all that the city and school has to offer, cheer on the Herd and be ready to answer every time you here a loud "WE ARE…"
Nick Herrick can be contacted at [email protected]