Dress For Success River Cities celebrates 10 year anniversary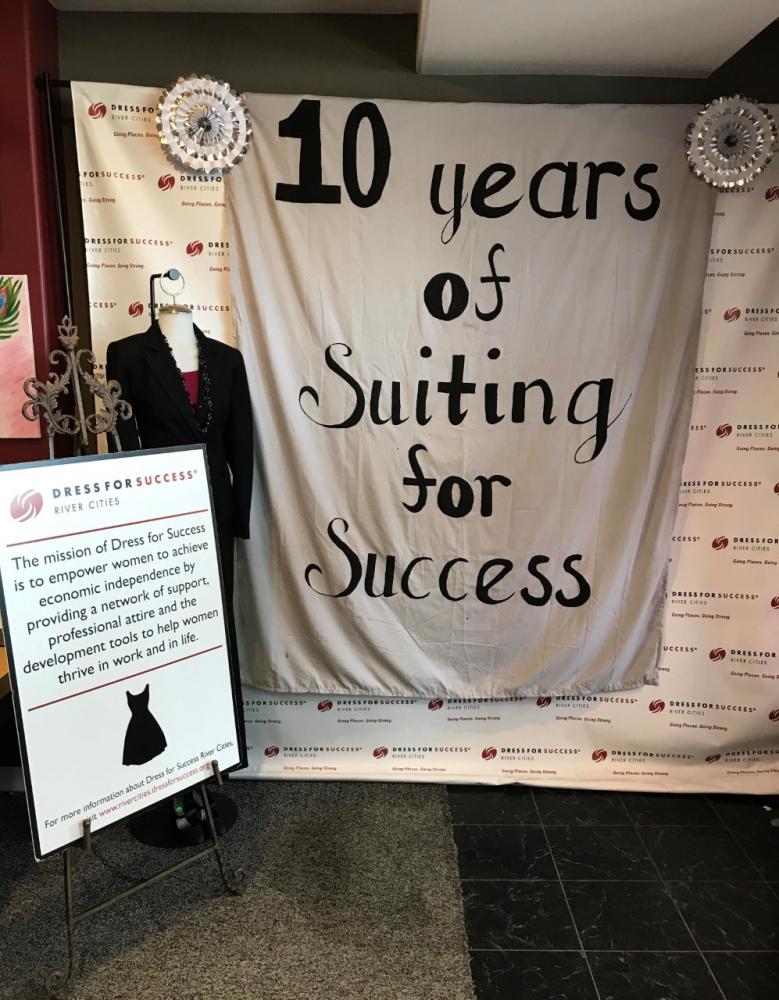 Dress for Success River Cities, an affiliate of the international non-profit organization, is celebrating 10 years of suiting women for success in the Tri-State area. The organization, Dress for Success, serves women in 149 cities in 26 countries on their journey to economic independence.
Dress for Success River Cities provides women professional attire to assist throughout their employment journey. Once women receive a referral from one of Dress for Success' many referral partners, they obtain what they need for an interview – from clothing to confidence- and can return once they find employment for the apparel and accessories needed to enter the workforce. Clients receive one outfit for job search and interview, and five outfits for the work week once they have gained employment.
"I have been unemployed and looking for work for over a month," said Beth, a Dress for Success River Cities client. "Being a single mom of three hasn't been easy with no employment. I finally received a call to work at the hospital and was by no means ready or had the funds to purchase the appropriate attire. Dress for Success made that possible."
Women also have the opportunity to receive resume and mock interview assistance through Dress for Success River Cities' Career Center. Staff and volunteers work with clients one-on-one to improve interview techniques and writing skills to help women be confident in their transition into the workplace.
Krislyn Holden, the Public Relations and Marketing specialist at Dress for Success, said "My favorite thing is seeing the client's reactions… just the transformation from uncertainty to confidence is crazy and so awesome to see."
Krislyn started her career at DFS as an intern through Marshall's program in the School of Journalism. She went from being an intern in January to being a part-time, then full-time employee in May.
To celebrate serving women for 10 years, the affiliate created the "Tuck a 10 Initiative," encouraging donors to include $10 donation or more with their donation of clothing, shoes and accessories. These financial resources will enable the affiliate to provide clients with additional programs and services.
In accompaniment with their 10 year anniversary, they are also moving to a larger space so that they can accommodate the growth they have seen over the past 10 years.
For the past 10 years, Dress for Success River Cities has provided over 2,500 women with the professional clothing and resources to succeed in work and in life. The organization served 309 women in 2016 and plans to exceed that number in 2017. This year, they have already served 175 women.
"We are so thankful to have had the opportunity to serve women throughout the Tri-State area who need us most over the past 10 years," Jessica Hudson, Executive Director of Dress for Success River Cities, said. "Reaching this milestone would not have been possible without the support of so many who believe in our mission. Providing over 2,500 women in our area with a sense of confidence and hope for the future has been such a blessing."
Holden said they are always looking for people interested in work study, interning and volunteering. With many upcoming events they encourage anyone interested to follow DFS on social media. They post volunteer opportunities and information about upcoming events on their social media pages.
For inquiries about volunteering, interning or work study programs email [email protected] or follow them on Twitter @DFSRiverCities, Instagram @DFSRiverCities and Facebook @dfsrivercities
Hunter Ellis can be contacted at [email protected]